FOODS UNKNOWN: Schmaltz's Deli: a deli to fill bellies
Located in the back of Naperville's Tower Crossing shopping center sits Schmaltz's Deli– an unassuming place, distinguishable from the other buildings surrounding it only by a white banner. But when you step inside? Well, let's just say, sometimes heaven takes the form of four yellow walls and a plate of Schmookies.
I visited the Jewish delicatessen with senior Julia McGuire for this issue's edition of FOODS UNKNOWN. Julia and I have 6th period together and once I saw her eating the most beautiful cookie I've ever seen. I asked her where she got it and she said that she got it at her favorite restaurant, Schmaltz's Deli. I scheduled this interview with her immediately after.
"I first ate at Schmaltz's two summers ago with my friends," McGuire said, "I ordered the Caprese Sandwich the first time I went there. Then the next couple times I went I just ordered the same thing. But after going back a couple of times, I started to try new things. I've had their turkey sandwich on their pretzel bagel bun, a different turkey sandwich on their homemade tomato bread, as well as their corned beef sandwich."
When we visited after school one Friday, I opted for their "Famous" pastrami sandwich called the Gramercy Park. Piled around 3 inches high with steaming shredded pastrami, slathered in hot mustard, and barely contained within the confines of two hearty slices of bread, it clogged every artery in my body and made me the happiest person alive. The sandwich, drink, and cookie I ordered all cost under $11.
After we watched the employees assemble our right in front of us, McGuire and I sat on the dining side of the restaurant. It's a big place, and the yellow walls are adorned with paintings of Mazzo ball soup and dozens of photographs of families and friends smiling and enjoying their meals. Faintly over the speakers comes a seemingly random playlist that skips between soul music to pop hits of the early 2000s to country.
"I love how fresh everything is there and just the general vibe of the restaurant. I feel like there's not many other restaurants like Schmaltz in this area," McGuire said. "To me, every time I eat at Schmaltz I feel like I'm in a typical New York City deli."
As we sit, McGuire looks around at the photographs. To my left is a picture of a family caught mid-meal. Little kids are jumping up in down in chairs while a man and a pregnant female grin at the camera, like a modern-day Norman Rockwell painting of the perfect family. Only this time, the perfect family has plates piled high with bagel chips.
"Parts of the Jewish culture I see at Schmaltz does remind me of the Italian side of my family," McGuire said. "The way the employees are always loud, yet welcoming at the same time, and care so much about the food they're making is definitely reminiscent of my Italian relatives."
I understand what she means. My family doesn't work at Schmaltz's, but when you come in, it almost feels like you've come home.
But I wish my home had Schmookies.
About the Writer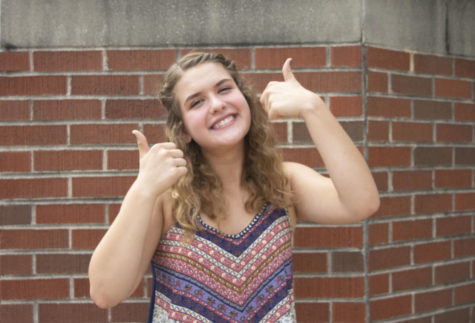 Katherine Gross, News Editor
Katherine Gross is a senior this year, and when she is not at school, she is busy trying to organize her life- which is a chaotic nightmare. She loves...