CAPS AND CONCHES: A championship team built through tradition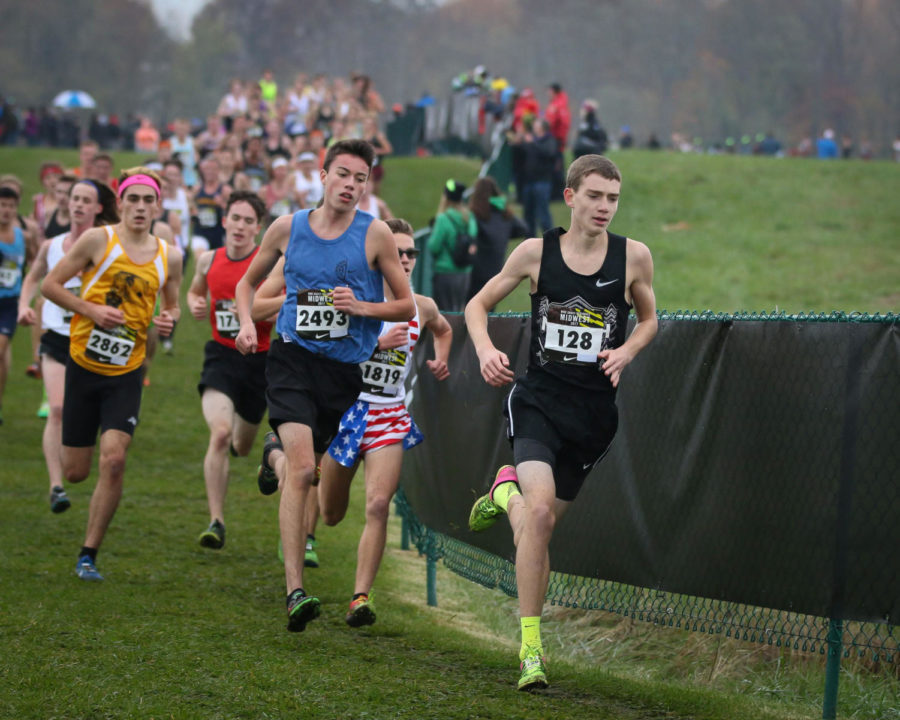 FOURTH IN THE NATION
Closeness, both literally and figuratively, sets this year's boys' cross country team apart from past groups. The times of the top seven are closer and the traditions more sacred than ever. This year, the boys won the state championship and Nike Midwest Regionals for the first time in history. Additionally, they finished fourth at Nike Nationals.
A 17 second difference between the first and fifth runner at Nationals proved the team's depth. This small split allows the team to utilize a pack running strategy. This technique makes it easy to motivate each other, as well as score as best as possible.
"That is really, really tough to beat. We're not spread out. Usually a minute split is good. We're putting six guys in front of anyone else's two or three [finishers]. The quality of our pack is so high up that it's just hard to beat and people can't match that depth at that high a level," head coach John Sipple said.
Due to their close proximity during the race, the boys often talk with each other, something not usually done by other teams, according to the youngest member of the top seven, junior Jack Roberts.
"We've become really good friends with each other. Running is something that we've embraced. At first I didn't really have that much fun doing it, but as I've become better friends with guys I've enjoyed hanging out with them on runs and the success of the team is built because we're so engaged in what we've accomplished and what we want to accomplish," top runner senior Jacob Ridderhoff said.
They remind each other of inside jokes made during the season to keep their mind off the race. For example, the boys are known for their game of trying to get each other to say "mine" in response to a question. If they do, the person who said "mine" has to do 10 pushups.
At the Footlocker Regionals in Kenosha, Wisconsin Nov. 25, senior Ryan Birkmeier asked senior Brendan Lockerby whose water bottle was near them. With 30 seconds left on the starting line, Lockerby dropped to do 10 pushups.
"I would say it bonds the team because we would do it in really serious situations. It's just a fun game overall and can be abused in serious situations. But we have so many inside jokes, there's probably better ones that I can't say," Lockerby said.
According to the boys, the best piece of advice they were given was to "trust their training." Running 50-60 miles a week and getting at least eight hours of sleep a night is essential to their success. The most miles run this season between June and Nov. 28 was 1,225.04 miles by Ridderhoff.
"[We] just listen to [the coaches] and trust they know what they're doing. They probably have a better idea of what I should be doing than I do," senior Miles Christensen said.
The team credits their success more to the bond of the team than any running strategy. One of their traditions is the passing down of a conch shell from a senior to a freshman. This makes the underclassmen an instrumental part of the program. Senior Nick Chudzik received the conch his freshman year from alum Jack Diamond and this year passed it down to freshman Evan Cummins.
"For the next three years after my cross country season, meet after meet I'd blow the conch, and so often people would look back, wondering what they were hearing. It humbled me, as in [Diamond's] speech he noted that as annoying as I was, Jack saw some of him in me. He knew I'd grow up to be a great leader and model on the team, " Chudzik said.
Chudzik ultimately decided that he saw himself in Cummins and he fit the personality to wield the conch. Cummins knew it was between him and a few other guys before the banquet, but he was honored to receive the conch. He is excited to be a potential role model for runners to come.
"If it weren't for [the top seven] I'm not sure I would continue running. They encourage us to push each other everyday and always get better whether it be at running or school," Cummins said.
Will Kupisch, a retired DGN cross country coach and counselor, continues to come back and motivate the team through his pre-race speeches. He speaks highly of Sipple and is overjoyed with what he has done with the team. One of these being having every runner's name engraved on the state championship trophy. He does this to show how important every runner is.
"If the slowest guy is cutting loops, Sipple and the guys, they're on them. They're on him for a reason. Because you matter. We care as much about you as the first guy," Kupisch said.
Kupisch's legacy also lives on through the purple caps given to every freshmen and new runner at the end of their cross country season. He got the idea of a program-wide hat from the York cross country team years ago. Other teams, as well as girls, often try to trade things for these famous hats.
"The issue we tell the guys is you're going to be a chick magnet when you put that hat on. Just keep them away and don't you ever give up that hat," Kupisch said.
However, it all circles back to a more well known tradition: the pasta party. The tradition has become so large that it now has it s own t-shirt with all the hosts listed on the back.
These have been Lockerby's favorite traditions over his four years. As he and the team journeyed through their historic season, the mindset remains business as usual.
"Honestly there's nothing left to do. It takes time for all that work to grow your muscles, so everything we've already done is done," Lockerby said.
With senior Sam McCool missing a shoe for over half of the race, this team still closed out the best performance by any cross country team in DGN history with a fourth place national finish. They have completed their journey, and made the unknown, known.