Remembering Anthony
I wouldn't know, because I never met him, but apparently he could be a jerk.
Actually, many said he was. His TV crew, his interviewees, his interviewers. He was a man thrust into the public eye, yet masking his private side. On his shows, it was hard to get a glimpse of his real personality. You had to rely on everyone else's opinions of and digest what they said to understand who he was.
Anthony Bourdain would tell you about food and culture, but never about himself.
I started watching his show in 2011, when I was 10 years old. I would slip downstairs past my bedtime and sit besides my dad on the couch and watch his first TV show, No Reservations. As virtually the first travel and food journalist, he opened my eyes to places I never could have imagined. Somewhere, there's a home video of my dad asking me what I wanted to be when I grew up.
"I want to be just like Anthony Bourdain!" I said. "Only better."
As a child, I never could have grasped what he was struggling with. I didn't pick up on what happened to him or his ruddy face on his 4th glass of red wine while on camera. I didn't follow tabloids enough to know about his tumultuous relationships with people and with drugs. I barely knew what depression was, let alone believed that a man who got to travel the world eating food and talking to people had it. It didn't occur to me that he could be meeting presidents and Bill Murray and still be unhappy.
I was 12 when I decided that my childhood dream of being Bourdain would happen if I got a journalism degree. I was 13 when my first review was published in a newspaper, after I won a contest for the Chicago Tribune. I was 14 when I first wrote a review for a restaurant outside of the United States. Fifteen when I started my own opinion column in the MySuburbanLife. Sixteen when I began writing for the Omega. Seventeen when I was sitting on my friend's bed in Luebeck, Germany, eating a chocolate bar, when I got the alert that Bourdain hung himself in his hotel room in Paris.
His last episode aired on Nov. 11. It took place in the Lower East Side of New York City. A robotic voice-over read the monologues he never got to record. His film crew filled the episode with videos of him laughing or staring off into space, and spliced them with jarring rock music and clips from New York City in the 1970s. Bourdain took us to his favorite restaurants, his favorite people, his favorite places to do drugs when he was younger. The episode felt like you were reminiscing with an old friend about times you could never get back. I guess that's because in a way, that's what it was.
He isn't a good person to idolize. He could be mean, drunk, and blunt. But you don't get to decide who influences you in life. Who makes you the person you want to be, or helps you decide what life you're going to live. If I had the choice, I probably would not have picked an alcoholic chef, in legal trouble, who struggled with mental illness, and swore up a storm on national TV. He was never a nice man. But I think he was a good man. He loved food and the world so much he made a whole genre of writing around it.
That being said, I have my first food review in the pages of this newspaper this month. And it's dedicated to him.
About the Writer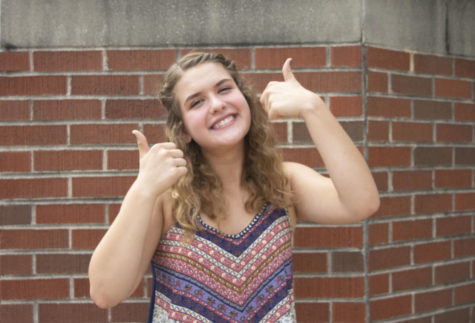 Katherine Gross, News Editor
Katherine Gross is a senior this year, and when she is not at school, she is busy trying to organize her life- which is a chaotic nightmare. She loves...