Glenn Messmer remains in jail after his arrest April 26 for the possession of child pornography. Messmer worked part time as an assistant track coach at DGS for almost two years. He also volunteered as an assistant track coach during the 2019-2020 school year at DGS and DGN.
According to Darien police records, Homeland Security executed a search warrant April 25 at Messmer's residence in Darien, Illinois, resulting in the discovery of internet child pornography on Messmer's desktop computer. Present at the time of the search, Messmer admitted to communicating with girls as young as 14 through the apps Telegram and Snapchat,to produce sexually explicit content. He paid them through CashApp and Venmo.
Messmer resigned April 25 and was taken into custody the following day by the Darien Police Department. After being denied bail, he remains in federal custody while he awaits an upcoming federal detention hearing, for which no date has been set. The Omega reached out to Messmer's lawyer, Christopher Grohman, however, he declined to comment.
As stated in the affidavit from the police report, Messmer told police that he had lived at his parent's house for the past five years. The residence is too close to an elementary school, and his parents are not living there year round, leaving Messmer with no place to live if released on bond.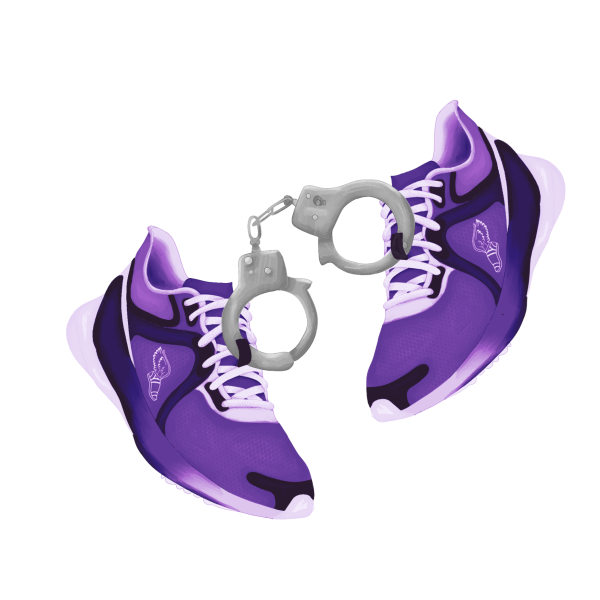 2022 DGN graduate Maeve Dietrich, former athlete of Messmer, often reflects on her uncomfortable past experiences with the coach. During the summer of 2019, Messmer was a volunteer coach for DGN Girls' Track & Field. Dietrich was entering her sophomore year. She was recommended by other Track & Field coaches to take private lessons outside of practices through Messmer's company, Messmer Speed and Strength. Messmer was the only coach of his company.
Dietrich worked with Messmer in the fall of 2019, taking a break from training that winter for the indoor track season. Then, COVID-19 hit.
"I was really bored and Glenn texted me that he was doing socially distanced speed and strength training for track athletes. So we practiced all summer, everyday, every morning on the DGS outdoor track. It always seemed a bit unorganized but my coaches referred him, so I thought it was fine," Dietrich said.
All summer, Dietrich and roughly a dozen other athletes trained with Messmer. This went on into the school year. Messmer would schedule their sessions via text and payments were via Venmo. He often took videos of athletes doing their track motions and exercises for improvement.
"I have so many videos from Glenn. You can hear him cheering me on in the background. At the beginning, I obviously loved the attention. I loved feeling like I was good at what I was doing," Dietrich said. "I had multiple conversations with him during my sophomore year about potentially running Division III track. He said he could introduce me to coaches."
2023 DGN Graduate Makena Presson began to take lessons with Messmer while in middle school, receiving coaching on speed training during after school sessions. She didn't go back until the summer before her junior year, when Messmer held agility-based summer camps at DGS for a variety of athletes.
"I didn't know anything about his personal life at all. I feel like it was strictly professional, strictly about track. I felt like I didn't have an actual emotional relationship with Glenn, like a friendship," Presson said. "He was mainly like an authority figure. I didn't think he was weird, I thought he was pretty professional. He was always positive, always encouraging. He never really gave me the creepy vibe."
Dietrich stopped training sessions with Messmer in December 2020. The 2022 track season was Dietrich's senior year, but she quit part way through the season.
"I don't want to say Glenn was the reason I quit because I was a burnout senior and there were a lot of reasons. But all of these athletes were continuing to be seen as special and when I didn't get that from my DGN coaches, I got it from Glenn. When I stopped training with Glenn, I started to hate track," Dietrich said.
Fast forward to April 26. Dietrich was in her dorm room at the University of Illinois Urbana-Champaign when she received a message from an old high school track group chat. It was a screenshot of the email from District 99, notifying families about the charges against Messmer.
"I saw his name and I didn't even read the rest. I knew," Dietrich said.
She dropped her phone and burst into tears.
"Every feeling that I had ever had about him came back with just reading his name," Dietrich said.
Receiving the same email from District 99 with the news of Messmer's arrest, Presson was more than shocked.
"It didn't really process in my brain right away. I don't think I ever would have seen this coming or thought that he would be the guy to do this. I feel like no one really knew that much about him," Presson said.