For years, the boys' and girls' cross country teams have been the most successful teams at DGN, from the boys team going to compete at NXN in 2016, 2017, and 2022, to the girls team placing fifth in state just last year. Now, for the first time ever, both teams are ranked number one in the state, which is a title they have been working hard for, and hope to keep for the rest of the season.
The boys' team started off the season strong at the First to the Finish invitational. Racing on the state course, DGN finished first among 3A schools. Three runners finished in the top five: senior Caden Weber, senior Ryan Eddington, and junior Grant Schroder.
"It was a great representation of the hard work we put in over the summer, on all levels," Weber said. "Winning on that course means a lot to us because that's where we want to be in a couple of months."
The girls' team followed suit, with varsity finishing first at the EIU Invite to start off their season. Two weeks later, varsity beat rivals York and Prospect at the Lake Park invite by one point, and held their spot as number one in the state after winning the Peoria Notre Dame Invitational. 
"It was definitely a shock to win against the top 2 teams (York and Prospect) this early in the season, so we are trying not to let this stress us out. But we also are really excited about our success so far and we want to see how far it can take us." junior Audrey Casten said. 
Every year, each team chooses a motto for their season. This year the boys team chose the motto, "No destination", and the girls team chose the motto "Believe". Both teams approach the season with a focused mindset, and plan to stay locked into their training to ensure success continues for the rest of the season.
"Goals should be lofty yet attainable and I think it is lofty yet attainable to be state champions as a team," girls' cross country coach Matthew Maletich said.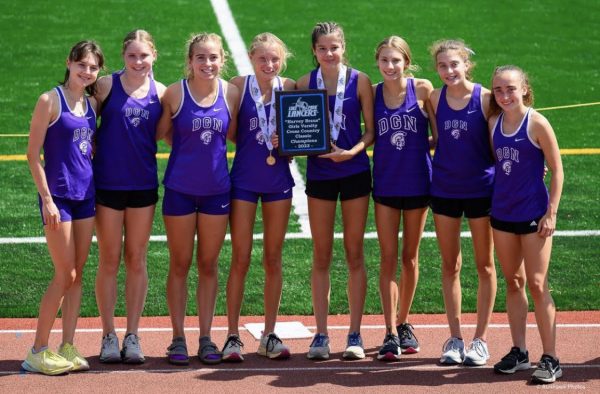 Each team has a unique training schedule that includes a couple workouts a week, 45 minute runs, "longer" runs, and pre meet days. They have days to push, and days to stay consistent with their training. As a result of their hard work, both varsity teams have won every meet so far this season.
"Those outcomes are products of what we do each and every day," head coach John Sipple said. "It's my job as a coach to keep them focused on the here and now because if we don't take advantage of today, we don't get it back. If we miss the opportunity to get better today, we blew it. We want to put ourselves in the position to perform at our best." 
With success so far in the season, each team has goals of qualifying for NXN, where the top 2 teams from every region in the country compete. The guys' team attended just last year, and the girls hope to make their mark this year as well. 
"While PR's and records are super cool, the ultimate goal is to place high at the state meet, the Nike regional meet, and maybe make it to nationals. We are super excited for this season and the girls are trying to keep this momentum going by staying healthy and working together," Casten said. 
Although both teams feel the need to carry on the Trojans' cross country legacy, they don't let it burden them. They view practices and meets as chances to improve individually, and participate in the sport they love. 
"We have a fun atmosphere, it doesn't seem like work to us. To ask them to run ten plus miles in the depths of the winter or the extreme heat of the summer, you got to have fun while doing that otherwise you aren't going to be out there," boys' coach Andrew Adelmann said.