Ballot Preview: Your guide for the 2020 general election
With the election less than a month away, the Omega has put together a list and detailed description of major candidates on a DGN student's ballot and what they stand for. This article serves as an unbiased and informative guide for new DGN voters.
**DISCLAIMER** This article contains detailed information on members of the two major American parties (Democratic and Republican). Candidates who are members of smaller parties and some who are running for more local positions will have their websites linked at the end of each race's section.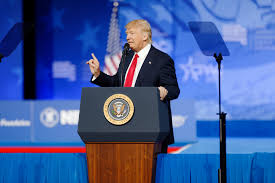 PRESIDENT: 
Donald Trump (R – incumbent): 
Bio:
Donald J. Trump was born in Queens, New York, on June 14, 1946. He attended Fordham University for two years before attending the Wharton School of Business at the University of Pennsylvania. He inherited the leadership of his father's real estate business in 1971 and has been involved in many other business ventures on top of his business. Trump owned the Miss Universe brand of beauty pageants from 1996 to 2015 and hosted his show (The Apprentice) from 2003 to 2015. Trump ran for president as a Republican in 2015 and was sworn in as the 45th President of the United States in January 2017.
Allegiance: 
Trump is a member of the Republican party. He has previously registering as a Democrat (until 1987, 2001-2009), a member of the Reform Party (1999-2001), and an independent (2011-12).
COVID-19: 
Trump is in support of reopening the country, especially schools and businesses. Trump has stated that "virtually nobody" is affected by the virus. In March, Trump banned travel from China and Europe to limit the spread of the virus but has not created a national plan since then to combat COVID-19. 
Energy/Climate:
Trump has a deregulatory agenda that focuses on rolling back restrictions on energy-collection methods like fracking. Trump's goal in canceling previous restrictions is to save energy industries like coal and oil. In October 2018, Trump criticized climate change scientists for having a "political agenda." The president's agenda for his second term does not mention the climate. 
Healthcare:
One of Trump's main goals for his first term was to repeal the Affordable Care Act (Obamacare). He is against a public healthcare system and promotes private insurance. It has been a complex four years in Washington in terms of healthcare legislation, yet Obamacare still remains the law of the land. Trump's second-term agenda includes cutting prescription drug prices, lowering healthcare insurance premiums, and covering all pre-existing conditions.
Social Issues:
Trump has expressed opposition to riots and looting in recent months, particularly blaming the far-left autonomous movement Antifa and the "radical left" for inciting violence and unrest in many major US cities. Trump is also pro-life and has set forth policies such as barring federally-funded health clinics from issuing abortion referrals. Trump supports the protection of Second Amendment rights as well.   
Immigration: 
Trump's 2016 campaign was centered around building a wall across the border between the US and Mexico. Trump has taken steps since 2016 to reduce both legal and illegal immigration from the south, and also famously signed an executive order (that was later revised) that, among other things, banned entry of refugees and immigrants from many Middle Eastern countries.
Education: 
Trump's second-term agenda for education includes teaching American exceptionalism in schools, as well as providing school choice to every child in America.
Economy:
Trump's main goals for the economy are to lower individual and corporate taxes and cut regulations (see Energy/Climate). In his first three years in office, President Trump oversaw an annual economic growth rate of about 2.5% until the second quarter of 2020, when the economy contracted by over 30% due to the COVID-19 pandemic.
Controversies:
Trump has been accused of sexual misconduct by 26 different women. There is also suspicion surrounding his refusal to release his tax returns, as well as the fact that he paid just $750 in federal income tax in 2016 and 2017. Trump was impeached in December 2019 on charges of obstruction of Congress and abuse of power but was acquitted by the Senate in February 2020. There have been at least 10 instances of possible obstruction of justice since Trump took office in 2017. 
Joe Biden (D):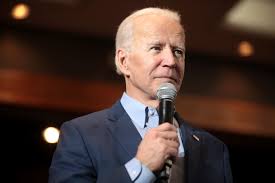 Bio:
Joe Biden was born in Scranton, Pennsylvania, and moved to Delaware when he was 10. After high school, he attended the University of Delaware and double majored in history and political science. He then went on to get his law degree from Syracuse University. After law school, Biden settled down and married Neilia Hunter and had three kids, Beau, Robert, and Naomi. Biden became the youngest person to be elected to the Senate. A couple of weeks later, his wife and 3 kids were in a terrible car accident and only Beau and Robert survived. While in the hospital with his 2 sons, Biden was sworn into office as a first-time Senator. In 1997, Joe married Jill Jacobs, and in 1980 their daughter Ashley was born. In 2008, Barack Obama announced Biden as his vice-presidential running mate. Biden became the 47th Vice President and would go on to hold that title until 2016. In April of 2019, Biden announced his candidacy for President of the United States. 
Allegiance: 
Biden has always identified as a Democrat.
Covid-19:
When COVID-19 first started affecting Americans, Biden was vocal about what his plan would be if he was President. He has stated that he would've "listened to science" to help curb the spread. His other idea was an economic response that would deliver relief to families and small businesses. In a statement made, Biden doesn't believe that President Trump is to blame for COVID-19, but believes that Trump is to blame for the lack of action taken to protect American families and businesses. 
Climate:
Biden believes that climate change is a pressing issue and action needs to be taken immediately. He wants to re-enter the Paris Climate Accord and would invest $1.7 trillion in steps to turn  America into a 100% clean energy economy by 2050.  
Healthcare:
Biden wants to protect the Affordable Care Act and plans to build on it with four pillars; give every American access to affordable health insurance, provide "affordable, quality" health care and a less complex health care system, stand up to prescription drug corporations, and ensure health care is right for all. He plans to eliminate the tax cut for the wealthy that President Trump passed while in office and reinstate the 39.6% tax rate that he negotiated in 2012. 
Social Issues:
Biden takes a liberal stance on social issues. During the Obama-Biden administration, Don't Ask, Don't Tell was repealed and Biden has been a supporter of marriage equality laws being passed. Biden wants to better the policing system and fight for equal pay for women and people of color. Biden is an avid supporter of Roe v Wade and wants to keep women's health organizations like Planned Parenthood open. Biden vows to respect the Second Amendment but wants to introduce "common-sense" gun safety policies. 
Immigration: 
Biden has condemned Trump's immigration policy as "morally bankrupt" and "racist." Biden backs Obama's unsuccessful 2013 Four-Part Reform Plan, which includes a path to citizenship for undocumented immigrants as well as with stronger border enforcement. Biden's border strength principles have more to do with screening than building border walls.  
Education:
Biden prioritizes investing in all children so that they can have the resources to graduate from high school and college regardless of factors like race or location of residence. 
Economy: 
Biden's proposed goals for the economy over the next four years are to create new jobs for Americans, reverse Trump's tax cuts for large corporations, and create "common-sense" tax reforms. 
Controversies: 
Eight women have accused Biden of inappropriate touching or their personal space being invaded but seven of those eight never amounted to sexual assault allegations. There have also been rumors that Biden is not mentally sound due to the fact that he often trips over his words, but these rumors are not backed up by a diagnosis. In May, Biden was quoted in saying that "If you have a problem figuring out whether you're for me or Trump, then you ain't black."
Brian T. Carroll (American Solidarity Party)
Howie Hawkins (Green Party)
Jo Jorgensen (Libertarian Party)
Gloria La Riva (Party for Socialism and Liberation)
US SENATE: ILLINOIS (who will be one of the two representatives of Illinois in the 100-person US Senate for at least the next six years): 
Dick Durbin (D – incumbent):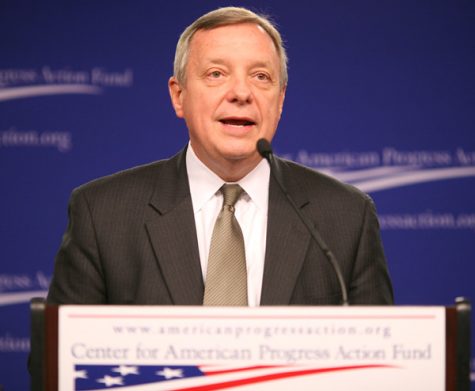 Bio:
Dick Durbin is the 47th U.S. Senator, a Democrat from Springfield. Durbin has also served as the Democratic Whip, the second-highest-ranking position among the Senate Democrats, since 2005. Durbin was first elected to the U.S. Senate in 1996 and has been returning ever since. Durbin sits on many committees such as the Senate Judiciary, Appropriations, Agriculture, and Rules Committees. On the Judiciary Committee's Subcommittee on Immigration and the Appropriations Committee's Defense Subcommittee Durbin is a Ranking Member. 
Allegiance: 
Durbin is a member of the Democratic party and endorses Biden for president.
COVID-19:
Durbin's number one priority during this pandemic is to provide health care professionals and scientists with every resource they need for treatments and research into COVID-19 and to support working families during this difficult time. 
Energy/Climate: 
Durbin prioritizes preserving the environment. Durbin is committed to protecting wilderness areas in Illinois and across the country for future generations. Durbin believes that Illinois has many resources and that these resources keep the economy moving. Durbin supports putting out more federal laws that would slow the rate of carbon emissions and prepare and protect against climate change.
Healthcare:
Durbin believes that healthcare is a right. Durbin also believes that to improve the economy, healthcare costs should be controlled and healthy lifestyles should be promoted.
Social Issues: 
Durbin is a member of the Senate Judiciary Committee. He urges the need to provide better options for young people in America who are at risk of becoming involved in gangs or other criminal activities. Durbin also believes that criminal justice laws need to be not just firm, but fair. Durbin is pro-choice and pro-gun control. The NRA gave Durbin an "F" rating.
Education:
Durbin's education policy focuses on making education more accessible and affordable. In his career in the Senate, he has worked to maintain affordable federal student loan rates, investigate into for-profit colleges, and increase free textbook access.
Economy:
Durbin has worked to provide funding to national laboratories, in order to stimulate research that can provide innovative solutions to modern issues (specifically climate change). One of his economic priorities also concerns restoring economic security for the middle class. Durbin has introduced legislation rewarding employers for fair treatment and pay of employees.
Controversies:
Durbin found himself in hot water in June after referring to Republican police reform legislation as a "token" approach. In 2005, Durbin also came under fire for comparing the treatment of U.S. detainees at Guantanamo Bay to the interrogation tactics of Nazis.
Mark Curran (R):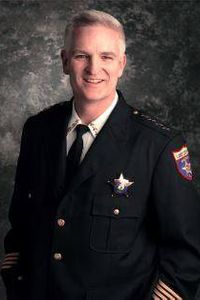 Bio:
Mark Curran has a long history in Illinois government. He has been Lake County Sheriff, Attorney General's Gang Crime Bureau Chief, Senior Prosecutor Lake County State's Attorney, and Special Assistant United States Attorney; he is also heavily involved in his community.  Curran is a graduate of Spring Hill College in Mobile, Alabama. Curran is pro-life, pro-leader, and believes in his ability to be a leader. Curran is married to his wife Irene and is a father of three boys.
Allegiance: 
Curran is a member of the Republican party. 
COVID-19:
Curran believes in reducing regulations related to COVID-19 in order to save the economy. He is against "hand-outs" that benefit corporations during this pandemic that end up increasing taxes for Illinoisans.
Energy/Climate:
Curran knows that the environmental health of the world is important. Curran believes that climate change is a global issue and that there is a need for the U.S. to export cleaner energy sources to the, as well as to the biggest CO2 emitters. While Curran is not in favor of the Green New Deal, he does support Rep. Dan Crenshaw's March 2020 proposal for introducing the New Energy Frontier legislation.
Healthcare:
Curran believes that healthcare should not be put into the hands of the government. He would like to expand our healthcare system, to give the American people more choice and give the companies competition. Curran very strongly opposes socialized medicine.
Social Issues:
Curran is a supporter of law enforcement and first responders, largely due to his history in law enforcement. Curran also takes a pro-life stance in the abortion debate and does not support restrictions on current gun laws.
Education: 
Curran supports school choice, as well as the expansion and advocacy for occupational training and trade schools.
Economy:
Curran supports President Trump's "America First" economic agenda. He believes that there must be more jobs in central, western, and southern Illinois by incentivizing domestic production over foreign. 
Controversies: 
Curran reportedly has had a history of opposing President Trump and his views but has since been an avid supporter of the President. Curran also was quoted in saying that the late John Lewis was "not much of a civil rights leader" due to his support for Planned Parenthood and abortion rights.
David Black (Green Party)
Danny Malouf (Libertarian Party)
Willie Wilson (Willie Wilson Party)
US HOUSE OF REPRESENTATIVES: ILLINOIS 6th DISTRICT (who will have one of Illinois' 18 seats in the 435-person House of Representatives for at least the next two years):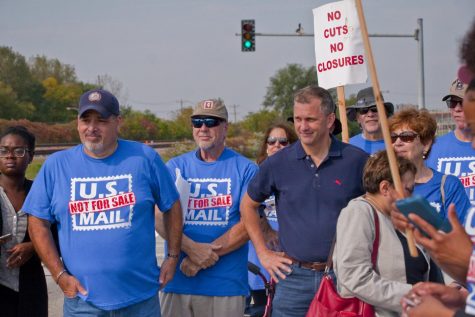 Sean Casten (D – incumbent): 
Bio:
Sean Casten was born in Dublin, Ireland but was raised in Hartsdale, New York, and graduated with a degree in molecular biology and biochemistry from Middlebury College. He represents Illinois' sixth district in the House of Representatives. If re-elected, this will be his second term. He is the first Democrat to represent the district in almost 50 years. Before he was elected, Casten Co-founded and led Recycled Energy Development, which worked to recycle wasted energy and convert energy facilities into cleaner and more economic uses. Casten serves on numerous committees and is considered the "go-to guy" for climate change in D.C. Casten resides in Downers Grove with his wife and two daughters. 
Allegiance: 
Casten is a member of the Democratic party and supports Joe Biden for President. 
COVID-19:
Casten has worked to pass many bills in the House that provide economic aid to people during the pandemic. One of the bills that he voted to pass was the #HerosAct which focuses on rebuilding the economy, protecting families, and getting the virus under control. 
Climate: 
Before Casten was a politician he was a clean energy scientist, so climate change is something he feels strongly about. Casten supports re-entering the Paris Climate Accord and has also co-sponsored many climate change bills.
Healthcare:
Casten believes that "everyone has a right to universal, affordable health care." Casten is an avid supporter of the Affordable Care Act (ACA). In Congress, he co-sponsored the Protecting Pre-Existing Conditions and Making Health Care More Affordable Act, which has the goal of making insurance more affordable for low-income families.
Social Issues: 
Casten takes a liberal stand on social issues, like climate change, women's rights, and immigration reform. In Congress, Casten co-sponsored the George Floyd Justice in Policing Act which would ban chokeholds, no-knock warrants, eliminate qualified immunity, establish a National Police Misconduct Registry, and would end racial and religious profiling.  Casten is pro-choice and supports the LGBTQ+ community. Casten is in favor of gun control and co-sponsored the Bipartisan Background Checks Act, introduced the Gun Trafficker Detention Act, and co-sponsored the Assault Weapons Ban. 
Education: 
Casten prioritizes providing education for every child. In Congress, Casten introduced the Pell Grant Sustainability Grant. 
Economy: 
In Congress, Casten co-sponsored the Protecting the Right To Organize Act and the Protecting Older Workers Against Discrimination Act. He also voted for the Moving Forward Act. He believes that investing in clean energy will create jobs and help improve the climate, so people don't have to choose between saving the planet and creating new jobs. 
Controversies:
Casten made a statement in 2018 relating President Trump to Osama bin Laden saying they both "have a tremendous amount in common," and at a campaign fundraiser, Casten called people "racist" and "looney." When the video from 2019 arose this summer, Casten responded with a tweet, "The rumors are true, I like rap music and I don't like racists."
Jeanne Ives (R):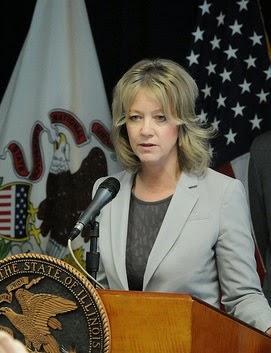 Bio: 
Jeanne M. Ives was born Oct. 4, 1964, in Vermillion, South Dakota. Ives graduated from the United States Military Academy at West Point in 1987 and served in the US Army from 1987-1993. Since then, she has served three terms as a member of the Illinois state House of Representatives (from 2013-2019), with a primary focus on true pension, tax reform, government transparency, and school choice. In 2018, she ran against Bruce Rauner in the Illinois gubernatorial primary for the Republican party, losing narrowly. Ives lives with her husband and five children in Wheaton, where she has resided for the last 27 years.
Allegiance: 
Ives is avidly against socialism and "big government," and often criticizes Casten on Twitter for supporting these concepts. Ives supports President Trump and many of the conservative policies and views that he holds (such as expanding the military, increasing jobs, and nominating conservative Supreme Court justices) but does not agree with him on everything (such as unbalanced budgets and large spending bills).
COVID-19:
Ives is in support of returning to work and school. She understands the risks of COVID-19 but believes that the threats of a continual economic and educational shutdown are more dangerous. 
Climate: 
Ives does not support rejoining the Paris Climate Accord. 
Healthcare:
Ives states on Twitter that she is for a "private, patient-focused approach to healthcare that protects pre-existing conditions." She criticizes the universal healthcare plan that Casten supports as "wildly ineffective and costly." She is against a government-related insurance plan, Medicare-for-All, and Obamacare.
She writes on her website that "The solution for the American worker is to provide them with a robust insurance marketplace that lets them choose the plan that is right for them in coverage, cost, and network."
Social Issues:
Ives takes a conservative stance on social issues, such as gay marriage and the Black Lives Matter movement. In recent months, Ives has condemned rioting in looting related to the social justice movement. Ives has also had a history of condemning gay marriage and relationships. In regards to immigration, Ives' website states that she stands for the "rule of law" on the borders of the United States. Ives also opposes abortion in all instances except to save the life of the mother.
Education: 
Ives, like Trump, supports school choice for children in Illinois.
Economy:
Ives takes a conservative stance in regards to the economy, stating on her website that one of her "guiding principles" is to measure any policy position by its harmony with the free enterprise economy. Ives supports tax cuts in order to decrease the cost of doing business to enhance the economy.
Controversies: 
According to Politico, While running in the Republican primary election for governor against then-incumbent Governor Bruce Rauner, Jeanne Ives' campaign paid for and ran an ad that was condemned as racist, sexist, and transphobic by members of both political parties. Ives refused to take down the ad even after Illinois Republican Party Chair Tim Schneider called for her to do so. Also, on Feb. 25, 2013, while on a Catholic Conference of Illinois radio show, Ives made several controversial comments about gay marriage.
Bill Redpath (Libertarian Party)
ILLINOIS STATE HOUSE OF REPRESENTATIVES DISTRICT 81 (who will represent the Downers Grove/Woodridge area in the 118-person Illinois state House of Representatives):
Anne Stava-Murray (D – Incumbent)
Laura Hois (R)