Pandemic parenting: a complicated balancing act for teachers
As schools around the country prepare to begin instruction amid the COVID-19 pandemic, many teachers face the added challenge of parenting, and in some cases, educating their own children while simultaneously teaching the students in their classes. 
Teachers with children of all ages have been forced to make a multitude of difficult decisions as a result of the new learning environment the pandemic has created. With each school using different plans for learning, whether it be in-person, remote learning, or a hybrid schedule, the concern for making sure their children are monitored is compounded by the worry for their safety. 
Spanish teacher Paula Fernandez, who parented her four-year-old daughter and 11-month-old son full time while teaching remotely this spring, had to balance spending time with her children while also leading online classes.
"Everything was difficult…The most challenging part was hosting synchronous class sessions while taking care of my own children who are very young and need full-time, hands-on attention. A crying infant isn't so much fun in a virtual classroom full of 15-year-olds," Fernandez said.
Fernandez's mother-in-law plans to take care of the children during the day this school year in order to ease some of the stress caused by the situation.
"She will be able to care for our children full-time and allow us to work full-time, which helps with managing our time," Fernandez said. 
For teachers with children in pre-kindergarten or elementary school, such as math teacher Sally Heiwig and science teacher Bob Calder, online learning has presented a different set of unfamiliar obstacles. 
For Heiwig, whose five-year-old daughter was in pre-kindergarten this spring, it was important that her daughter's remote learning was supplemented with the activities she would have received in a normal school day, but were not included in online instruction.
"For pre-kindergarten, we had optional Zooms three times weekly for 30 minutes each… I did feel the need to fill in for the structured activities she was missing out on such as reading time and letter practice," Heiwig said.
This coming school year, Heiwig's daughter is set to begin kindergarten. "Her schedule is about as unpredictable as ours is, so I do have concerns," Heiwig said. 
Calder, who has children aged two, four, and six, mentioned that, "I am fortunate to be in a situation in which my wife stays at home… and also happens to be a certified elementary school teacher." 
However, for the Calder family, recreating the learning environment of a school isn't easy.
"It was very difficult to keep my daughter caught up because at a young age she was certainly not capable of staying focused or even navigating all of the online resources on her own," Calder said. 
As a result of balancing parenting and teaching this spring, Calder and Heiwig can identify with the struggles students have faced during online learning.
"Having children at home (even though they are very young) has definitely highlighted just how difficult it can be for my students during online learning," Calder said. 
Though each student and teacher face unique hurdles, the shared experience of re-learning how to attend school is a challenge with which everyone can identify.
Heiwig emphasized the importance of empathy during this time. "Maybe my challenge is keeping a five-year-old occupied while a teenager is more worried about their job or younger siblings. We all have adjusted responsibilities now and I think being aware of that is so important," Heiwig said.
About the Contributor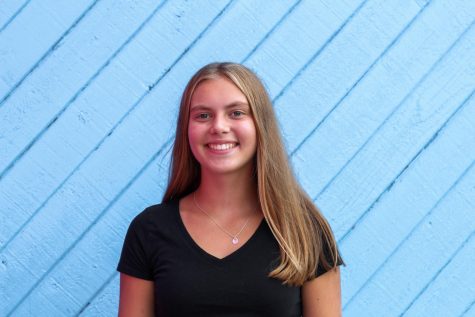 Kate Gross, Feature Editor
As a junior, Kate is excited to begin her first year with the Omega as a Feature Editor. Her favorite pastime is playing basketball and she competes on...