Quaran-cookies: traditional chocolate chip cookies with ingredient substitutes
While we are all staying home, it's easy to run out of things to do. Baking is a good stress reliever that ends in delicious desserts being made. Because of COVID-19, going to the store to grab all of the correct ingredients is not the best option. In this chocolate chip cookie recipe I have attached the best replacement for some of the key ingredients. For best results, only use one or two of these substitutions per batch.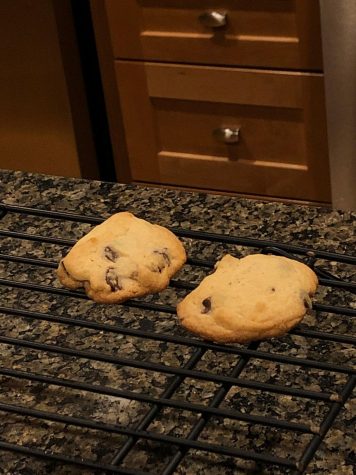 What you need: 
3 cups all-purpose flour
1 cup white sugar
1 tablespoon of hot water
1 teaspoon of baking soda
½ teaspoon of salt
1 cup of butter (softened) OR ½ cup of unsweetened applesauce OR ¾ cup of vegetable oil
1 cup packed brown sugar OR 1 more up of white sugar and 1 tablespoon of maple syrup
2 eggs OR 1 whole banana, mashed
2 teaspoon vanilla extract OR 1 tablespoon maple syrup
2 cups chocolate chips OR any chocolate candies laying around your house
Directions:
Preheat oven to 350 degrees F

Mix together butter (or substitute), white sugar, and brown sugar (or substitute) in a large bowl until smooth. Stir in vanilla (or substitute).

Dissolve baking soda in the hot water and add to mixture.

Stir in flour, salt, and chocolates.

Drop large spoonfuls of dough onto greased baking pans about 1-2 inches apart.

Bake in preheated oven for about 10 minutes or until golden brown.

Take out cookies and let them cool for at least 20 minutes before serving.

Enjoy!