New contest incentivizes purchase of school lunch
For the first time, District 99 lunch provider Chartwells will be having a contest incentivizing the purchase of school lunches. Three winners will be selected at both DGN and at DGS, with results to be announced March 27. First place is a prom ticket, while second and third place are $50 and $25 gift cards, respectively.
Student Activities Director Mark Mirandola sent contest rules schoolwide, stating that in order to participate, one must purchase a combined 18 breakfasts and 22 lunches by March 17. Additionally, students must emailChartwells Supervisor Sabra Barowski ([email protected]).
Chartwells representatives have not yet commented on why the contest was created.
However, less students are buying lunch from the DGN cafeteria than ever before. According to data provided by Associate Principal Dr. Ken Sorensen, 92,791 lunches were purchased during the 2015-16 school year, while only 34,982 lunches have been sold in the current school year through Feb. 11.
Additional statistics provided by Sorensen show that despite a slump in lunch sales, there has not been an increase in students who do not have a lunch period. In the last semester of the 2015-16 school year, 267 students opted for no lunch, while only 235 took this option for the current semester.
District 99 Business Manager Jeree Ethridge believes these numbers do not tell the full story.
"Students are purchasing more a la carte items today than they did in the past. A slice of pizza by itself is, for example, an a la carte item," Ethridge said. "Students purchased more complete meals [pizza, fruits, and carrots] four to five years ago."
Ethridge added that more students are packing their own lunches, which could support the sales decrease over recent years.
However, Chartwells Assistant Food Service Director Sherrill O'Connor says things are looking up.
"We have seen a very slow increase in both lunch and breakfast participation over the course of the past year," O'Connor said. "The menu is changing on a five-week cycle, and the variations of hot and cold food items available to students are healthy and delicious."
About the Writer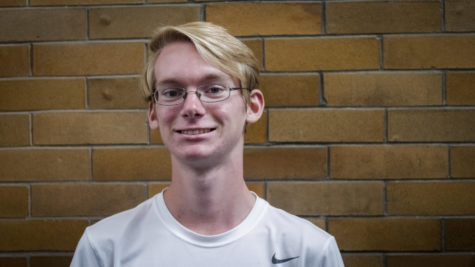 Andrew Thompson, News and Photography Editor
Andy Thompson is currently a senior and is excited to finish off his career as a high school student. He has been a distance runner for the cross country...