Young Hearts for Life returns to DGN
During PE classes on Feb 27, students will go down to the field house where ECGs will be administered on a mass scale by volunteers from The Young Hearts for Life Organization (YH4L).
The program has been in place at DGN for over 9 years, with the goal this year being 1,639 students."We reach the goal every time we've done it. It's a matter of getting the word out," the PE chairperson Courtney White said.
Cardiac death in young adults is a prevalent issue. "There are 60 kids a week in the United States that die of sudden cardiac death," the DGN presenter from YH4L Denise Arenz said. These students are active, Arenz continued, there are no symptoms and students just "go down in the middle of … practice."
The organization was created to combat this statistic. YH4L offers free ECG screenings to students. An ECG screens for irregular heart rhythms. "Irregular heart rhythms can lead to sudden cardiac death. If these irregular heart rhythms are identified they can be treated and monitored," said DGN school nurse Mary Beth Tamm.
An EKG can detect 70% of heart issues, Arenz explained.
This can include life-threatening diseases like "Hypertrophic Cardiomyopathy, Long QT Syndrome, Wolff-Parkinson- White Syndrome (WPW), Brugada Syndrome, and Arrhythmogenic Right Ventricular Dysplasia," stated the YH4L webpage.
The fear of the unknown was a motivation for sophomore Gabryel Gruska to get the screening. "I hope that I learn that nothing is wrong and that my heart is perfectly healthy," Gruska said.
The organization also stresses the importance of being tested multiple times. "Your heart is a muscle just like the muscle in your arms and legs. When you're a teenager every year, your muscles are changing," said YH4L program coordinator Cathleen Marek said.
During the presentation, Arenz stated, about 30% of kids the organization identifies as being at risk for sudden cardiac death come from the second time having the screening.
Thus far the organization has tested 250,000 and discovered and helped over 3000 students with heart issues.
The organization provides these screenings, that could cost upwards of $500 for an uninsured patient for free.
"I chose to participate because it was a free opportunity to find out if I was having any trouble with my heart," Gruska said.
Above all, the goal of providing this opportunity to students is to stress the importance of taking care of one's body.
"Hopefully, they'll see that as teenagers you think your lives are invincible and sometimes things happen, so make sure you take care of yourself, make sure that fitness is a part of your overall daily life and get your physicals every year even if you don't have to," said White.
About the Writer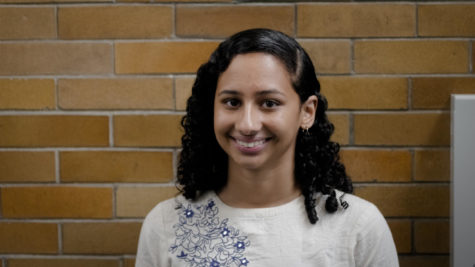 Anika Canamedi, In-Depth Editor
As a sophomore, Anika Canamedi is eager to start her first year on the Omega staff as one of the in-depth editors. You can often find her at DGN, in the...