Vaping law loophole provides outlet for teens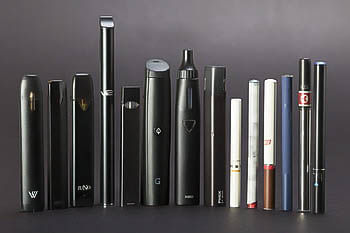 Sam Bull, Editor-in-Chief
February 13, 2020
A loophole in the Trump administration's recently initiated vaping ban still allows for the sale and consumption of mint, fruit, and dessert flavors as long as they are in non-refillable and disposable vapes. Thus, the "ban" will do little to limit the ever-increasing teenage vaping statistics in the United States.
The ban was signed by President Trump Jan. 2 and went into effect Feb. 6. The regulation, along with a Dec. 20 federal law raising the national vaping age from 18 to 21, came after a startling rise in vaping statistics over the last several years: the Pew Research Center states that the percentage of 12th graders who had vaped in the last 30 days jumped from 11% to 25% from 2017 to 2019.
An original ban proposed a prohibition on all flavors of e-liquids, which was met with backlash from the vaping community: e-cigarette activist group Vapor Technology Association reported in November 2019 that a total flavor ban would result in a loss of roughly 150,000 jobs and $8.4 billion in sales. The frustration expressed by activist groups along with the threat of economic downturn pressured President Trump to lessen the severity of the rules. 
The ban does not prohibit the consumption of menthol and tobacco-flavored pods in refillable cartridges, with the aim of making those products appeal to adults only. However, the loophole provides teenagers the opportunity to inhale any flavor, as long as it comes from a non-refillable device.
Refillable devices, such as STIG or Puff Bar, are filling the shelves of corner stores and vape shops, contributing to the problem of teen addiction and lung disease present before the ban was enacted.
These non-refillable devices are less expensive than products like JUUL, which can make access to nicotine and dangerous chemicals easier for teenagers. The New York Times stated in an article that one e-cigarette from Puff Bar is between $7 and $10, compared to a $20 JUUL device added to the $30 it costs to buy a pack of pods. 
According to some companies themselves, these reusable devices provide the same "satisfaction" as refillable products like JUUL. STIG states that its product is "filled with SaltNic e-liquid, a highly concentrated salt based nicotine that provides better nicotine blood absorption, therefore delivers faster satisfaction for a longer period of time. SaltNic's e-liquid is outstandingly smooth, tasteful and provides supremely satisfying throat hits."
These companies do not mention the dangers that come with vaping their products. As of Jan. 21 according to the Center for Disease Control, 2,711 cases of serious lung disease and 60 deaths have been reported in the US due to vaping. 
The rate of reported cases has slowed in recent months but is still increasing. The loophole may contribute to a continual upwards trend of vaping-use statistics among teenagers in 2020, leading to more cases of lung disease and death. 
The national vaping age increasing to 21 makes it illegal for a teenager to have or use any sort of vaping device. However, the loophole and difference in price perpetuates the risk of continually increasing teenage vaping statistics in the future.