Unqualified Podcast: art for students, by students
"Hi my name is Alex Teng and this is the Unqualified Podcast. I'm here with my co-host Connor. You can't see him right now, but Connor is completely naked. He's around 3 feet tall… well, let's just cue the intro music."
And so began the first episode of the Unqualified Podcast– this issue's Artist of the Month. The lighthearted podcast, created by seniors Alexander Teng and Connor Chapa, features a rotating cast of guest stars that Teng and Chapa consider to be 'unqualified' to talk about their pick of random news articles.
"The first podcast got 10,000 views. No, just kidding, it got like 120. Now it sticks around 70 views, but Spotify shows us that people are listening longer, which is our goal. In the past, people would listen for a little bit, but now people are listening for the whole time" Chapa said.
Teng was inspired by some of his favorite podcasters to begin Unqualified. He did not expect much from his project, but is now proud of how the podcast is attracting and keeping listeners.
"When I first started it, it was kind of a joke. I picked Connor because he was the only one who didn't work in the mornings on Sundays, which is when we record it. I listen to podcasts a lot so I was like 'It doesn't seem that hard. I could do that.'" Teng said. "But now? It's definitely the best podcast out there right now. It's definitely the best podcast DGN has ever seen with the most stacked cast. There's really nothing else like it."
To record their podcast, the duo sets up their microphones and Teng's computer in his office. The room also contains a fridge full of water– the hosts and their guests talk for about an hour and could get thirsty. Teng then edits the podcast down to the 20 best minutes with Garageband and publishes the podcast to Spotify.
Christian Acuna is the Radio Station Supervisor for the TV and Radio classes. He also is aids English teacher John Waite with recording and editing the weekly video announcements. As someone who considers themselves comfortable with technology, he admires the duo for creating their own podcast without any help.
"To start a podcast, it's pretty easy, but to keep it running smoothly it can get pretty difficult. I recommend a new podcast having a good microphone, good audio editing software, and a quiet room to record in," Acuna said. "For podcasting, you don't have to necessarily have to have the newest software or equipment, you can kind of just keep it going on a small scale, but if you do want to get into like the bigger production stuff and really get out there, it does help to have a really good camera and better microphones."
Before the recording process begins, however Teng and Chapa pick their guests based off of requests from students or because they duo thinks they would be able to match the relaxed but entertaining energy they want the podcast to emit. The goal, after all, is entertainment. Senior Nicholas Nixon was a guest on the March 23 episode.
"There's so much freedom. You get to express yourself and you don't have to worry about it. What I really liked about it is that they asked me questions that nobody ever asks me in school and me being able to answer those questions honestly means that it's pretty funny," Nixon said.
Senior Akhil Kodumuri calls himself a 'regular listener' to the podcast because of how funny it is. Teng expects to come out on May 13, and Kodumuri plans on listening to the new episode as well.
"I highly recommend it to the North student body. It's like listening in on a conversation between two high schoolers. It's a voice the student body doesn't often hear in media. A lot of it is like an insight into a conversation between a friend, one that you don't really see on like an academic level or in a class," Kodumuri said.
Nixon agrees.
"People should listen because it's a bunch of high school kids talking. It's not even just because it's funny. It's just kids being kids, and instead of listening to people telling us to grow up all the time, this podcast lets the inner kid come out. If you're tired to acting grown, listen to podcast, and become a kid again."
About the Writer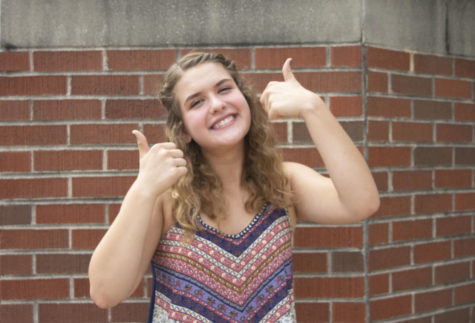 Katherine Gross, News Editor
Katherine Gross is a senior this year, and when she is not at school, she is busy trying to organize her life- which is a chaotic nightmare. She loves...