Master Facility Plan looks out for everyone
Hang on for a minute...we're trying to find some more stories you might like.
DGN alum and former sports editor Zain Bando has cerebral palsy, a condition that affects all four limbs, leaving him wheelchair-bound. Last March, Bando wrote an Omega story expressing his disappointment with there being a lack in space for people who are wheelchair bound to watch sports events in the bleachers.
"For people with disabilities, living with a condition they cannot control is a daily struggle, and remains something they need to manage. Sometimes, disabled people feel they cannot fit in, making it difficult to do the same things as an able-bodied person can do, including attending a basketball game," Bando wrote.
The master facility plan addresses these concerns and will be adding ADA-compliant bleachers.
"We will have ramps for people to access seats and places along the front for wheelchair access. It will be wide enough so we have traffic flow as well," associate Principal for operations and technology Dr. Ken Sorensen said.
Bando appreciates this addition, because he finds it to be long overdue.
"I've waited a long time for some renovations, and now with the Master Facility Plan, North is finally making much-needed moves. I wish it was done earlier because other WSC schools, such as York and Glenbard West, already have accessible ramps to watch the games," Bando said.
Although he can no longer watch home games as a student, he looks forward to watching games as an alum.
"This finally means that myself and others who are potentially in wheelchairs can finally watch the game with fans. I do feel having the ramp earlier could have made a positive impact on my game-viewing experience, especially my first two years. However, having that sideline experience was awesome junior and senior year," Bando said.
Not only will the plan allow the building and bleachers to be more accessible, but it will also benefit those with special needs. The addition of a sensory room and the improvement of the current skills center will help students in the multi-needs program with vocational practice, calming and focusing techniques, and basic life skills.
"[A sensory room is there] to make sure that your body and your mind is ready to learn and you're ready for the day. Some students need sensory integration throughout the day so it's proactive. So you do something maybe every couple of periods to calm yourself and your central nervous system down," special education teacher Diane McClellan said.
McClellan hopes that the sensory room can include materials that can help students calm down like weighted objects for deep pressure therapy or fidgets for students who require tactile stimulation.
"What would be great would be to have some materials for deep pressure. Sometimes that might be like a weighted blanket or a weighted vest. A system to play music would be great," McClellan said.
The skills center is a small kitchen where students can work on their vocational skills for jobs. For example, students can learn to cook and do laundry.
"We would use it for an instructional area for foods class and for functional skills that students need in order to be successful," McClellan said.
Every area of the building that the plan will be affecting will become ADA-compliant.
"Any place that we touch that is part of this project will become ADA-compliant if it is not already," Sorensen said.
About the Writer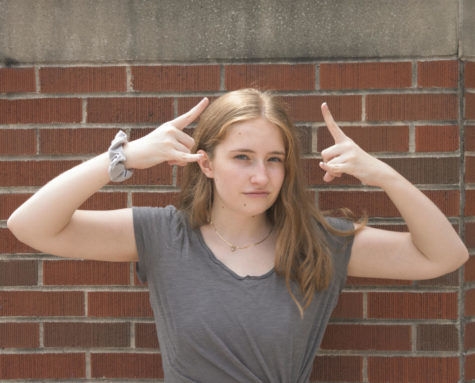 Ellie Cawthorne, Social Media Editor
Senior Ellie Cawthorne is excited for her first year working on the Omega staff. In addition to the Omega, Ellie is also heavily involved with theatre...