Fredo Disco goes on Tour
On a cold November night, over a year ago, DGN alum Fredo Fosco played his first concert with his band Fredo Disco. The show took place in the back room of a local music store, Evolution Music, in Downtown Downers Grove. Roughly forty fans of Fosco's music cramped themselves into the small room; Fosco's loud, throaty vocals bleeding through the building and onto the street. The show was mostly attended by Fosco's friends and acquaintances from DGN and DGS.
Next month, Fosco departs for a thirty one-date national tour where complete strangers will hear his music.
Fosco graduated from DGN in 2018, and throughout his time in high school, Fosco wrote songs and would upload them to his Soundcloud and Spotify. He amassed a large following of dedicated listeners, garnering nearly 30,000 monthly listeners on Spotify. Despite the large online following, Fosco looks forward to finally seeing his fans in person.
"I'm excited to meet all the people, because for so long it's been an internet only thing," Fosco said. "Everything is numbers on Twitter and I only see their profile picture. I only see the 'weird' side of people, and I'm really excited to see what they all look like — as real people. I'm also really excited for people to not just see me as the weird internet version of me. I'm weird as hell on the internet."
Fosco and his band will embark on a tour covering twenty-three states as well as Canada, opening for the bands Hot Mulligan from Lansing, Michigan, Future Teens from Philadelphia, Pennsylvania, and Belmont from Chicago.
The tour will depart from St. Louis, Missouri on April 26. Fosco and his band will cram into a van and cross the American countryside.
When it comes to translating his material from the internet to the stage, Fosco tries to bring something new to each performance so fans are always kept on their toes.
"You gotta have a little bit of the old song the way that it is recorded, but you also have to change it a little bit so when it's live, it doesn't sound exactly like the recorded version," Fosco said. "It's all about equaling out the two parts. If there are background vocals that didn't end up on the recorded version, or if you thought of later and it sounds really cool. It's all about equaling out the new stuff and the old stuff."
About the Writer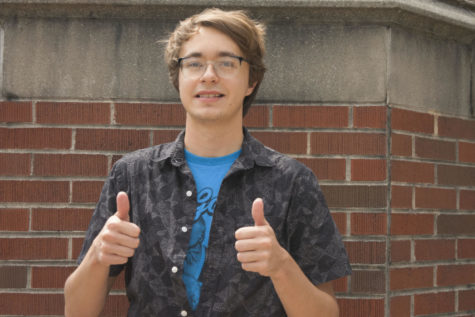 Matt Troher, Editor-In-Chief
Senior Matt Troher is excited to take on his second year on the Omega staff, as well as his first year as Editor-in-Chief. Unsurprisingly, Matt likes to...