Racist incidents bring attention to bigger issues
On Saturday, Jan. 12, a white DGN student wrote the N-word on a whiteboard.
Another student took a video of this, and then proceeded to upload that video to their Snapchat story. Within hours, the video had been reposted numerous times on other people's Snapchats with captions explaining how hateful the act was and how the student needed to be punished.
The video was posted on Twitter, and received more than 50 thousand views, 716 likes, and 371 retweets. Individuals on Twitter have voiced their outrage in many forms, such as threats or complaints to district administrators as well as the head cheer coach.
"This type of behavior is unacceptable and is inconsistent with the values we cherish at District 99. We are disappointed that this has happened, and apologize for the hurt that it has caused," Superintendent Hank Thiele wrote in a district-wide email Jan. 31.
Both the student recording the video and the student writing the word were kicked off of the junior varsity cheerleading team. Although the student was on the junior varsity team, the varsity team was verbally threatened.
"A lot of people said they were going to come to the games and competitions and boo us," varsity cheerleader junior Cece Cogger said. "A couple of adults on Facebook were saying that they were going to break our shins and our fingers."
After this video was released, another picture circulated students' snapchats from months prior. It was a picture of a black student with a caption containing the same racial slur. The picture had been screenshotted months earlier, but released on Snapchat just days after the first racist incident. This pushed the school even further into a field of racial polarization.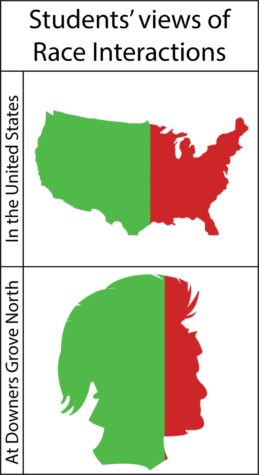 "Historically, [the racial slur was] a term that is hurtful; therefore, it should never be spoken or written in our school or on social media. Please know that if a student uses this word or any other derogatory term in a way that is connected to our school environment, we will issue consequences," Principal Janice Schwarze said in a morning announcement the morning of Jan. 16.
To find out about any other incidents, Omega writers asked Dean Tim Tilton how many anonymous alerts came in regarding students saying or writing racial slurs.
Tilton referred to Associate Principal for Staff and Students Kelly Zuerner. Zuerner has not yet responded to Omega. Omega has no evidence to how the incidents were reported to the deans.
"In most situations, the use of this word receives a 3-day suspension. Hate speech will not be tolerated here," Tilton wrote in an Omega email interview. "When concerning evidence is made aware to the dean's office, it is standard procedure to investigate its validity as well as consider its connection and/or disruption to the school environment."
Senior Nana Dickson attended a meeting that the United Men and Women of Strength club held after the video was released. This meeting was a space for those upset about the incident to voice their concerns and talk about their feelings.
"If you are actually trying to help a minority, your voice should be among theirs but it should never be higher than theirs," Dickson said. "All the people at North getting agitated and getting loud about it, the just don't know how to express that to the other [black] students."
English teacher and DGN Black History Month organizer Britni Mitchell stressed the impacts of these incidents as representation of a larger issue within the school and the country.
"Even with adults, you still have some that will say that these are isolated incidents and that it's not indicative of a larger issue, and then you have people like me who use this as evidence in showing that this is an ongoing problem," Mitchell said.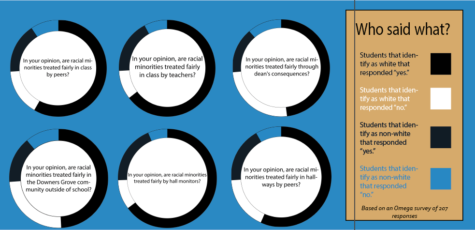 With seemingly perfect timing, on Thursday, Feb. 7, the library hosted the third annual African-American Read-in as a part of DGN's celebration of Black History Month.
With the recent racial incidents, the read-in had paramount importance in terms of trying to uniting the student body under the celebration black literature, poetry, and points of view.
"In years past, we've had all types of students come up and share. This year in particular, it was mostly black students. The read-in should be a platform for all students to have that expression because often times when discussing race they are told to change the topic," Mitchell said
Senior Anaya Rowe shared several pieces about racial inequality and what it means to be black in the community and country.
"The read-in was the moment where I had something to say and my voice is what mattered. When I shared my pieces, I wrote it from the heart, and I feel like it opened up a way for other students to speak up too," Rowe said.
The school rescheduled a PBIS lesson on the topic of race and microaggressions originally scheduled for Feb. 25. The new date has not been set.
"Before the racial incidents we have experienced here happened, we were already putting together a group of students who were working on equity," Schwarze said. "Their job is going to be to bring back something to the school."
Want to know why we chose this topic for our In-Depth section?  Check out this letter from the editor.