Aidan Lafferty finishes third in state despite cold weather
Hang on for a minute...we're trying to find some more stories you might like.
On October 12-13th, senior Aidan Lafferty competed in state and fired a 71 to finish tied for 3rd. After winning the regional competition, and more importantly the sectional match, Lafferty talked about his mindset after the much sought out victory.
"The goal going in was just to advance to state, so to get the win was really exciting in terms of having won regionals and following that up with a win at sectionals" he said.
In the recent months, lots of preparation has been done to be ready.  "It's just getting a sense of what I needed to do out there to succeed" Lafferty states. "I also had a practice round the day before the tournament on Thursday"
The IHSA boys golf championship this year was held at Fox Creek Golf Course in Bloomington, IL.
Unbeknownst to the players, the 2-day round held a cold October surprise with temperatures as low as 35 degrees on Friday. These horrendous conditions were unlike previous years, however. The temperatures leveled out at high 50s and low 60s in 2017.
On the 8th hole, play was suspended and Aidan was tied for 59th place heading into the last day. The players, including him, headed inside to regroup and take shelter. Eventually, news had broken that the scores from the first day were going to be totally disregarded, and the second day would provide a fresh start to determine the victor.
That very next day, th pieces finally started to come together for the senior as he shot a 71 to fly up the leaderboard to 3rd place. Lafferty explains, "In the end, it's always really exciting to play the back nine on the final day of a tournament with the chance to win. As a competitor, that's what I love about competing and playing the game."
Now with his high school golf career in the past, Lafferty says that he will continue to play in various golf tournaments and plans on Division 1 at the collegiate level. "It's a bit of a bittersweet end, in terms of high school golf., but I'm really excited about what the future holds and look forward to the coming months."
About the Writer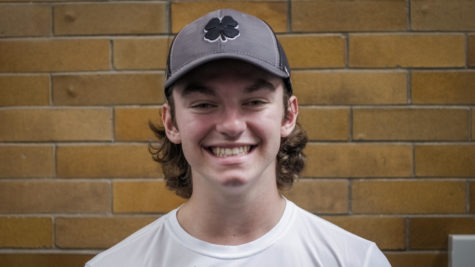 Sam Weinheimer, Editor-in-Chief
Claiming the title of Editor-In-Chief, senior Sam Weinheimer begins his final year of high school with high energy. He feels prepared to lead the Omega...