IHSA to implement shot clock for 2019-2020 basketball season
The state of Illinois may have to purchase shot clocks for the 2019-2020 basketball season if a new rule gets approved, according to IHSA. There are nine states who currently have clocks. Each of them is 35 seconds long, which is the projected time the state is shooting for. The average cost of a single shot clock could range from two-thousand to five-thousand dollars per school.
In the NBA and NCAA, teams are allowed to possess the ball for no more than 30 seconds at a time. This rule speeds the game and makes the offense think more quickly, while the defense looks to steal the ball from its counterpart.
In high school, however, teams on offense can have the ball for an unlimited amount of time, abiding by the rules of the game.
According to MyStateLine.com, a local news source from Rockford, Illinois, the IHSA surveyed various coaches throughout the state on if a shot clock was a necessary rule change back in March. The results were evenly divided, as 222 coaches said a shot clock is not needed, while 221 said it is needed.
Varsity boys' head coach Jim Thomas feels a shot clock would benefit the game.
"I would be supportive of a shot clock because that is what our student athletes would be playing with at the next level," Thomas said. "It also gives a flow to the game and would eliminate the games few and far between where a team holds the ball on offense throughout the game as a tactic to 'grind' the other team out."
Varsity girls' basketball head coach Stephan Bolt, who played for the Trojans in the early 2000's, has never coached with a shot clock. However, Bolt enjoys new challenges, and believes his players will adapt when needed if the clock is approved.
"I think it is good for the development of the game," Bolt said. "Players will have to make quicker decisions and be more skilled and better offensively to execute and score. With a shot clock, I believe that more often, the 'better' team will win."
While Bolt and Thomas agree on the shot clock's importance to the game, Bolt feels private schools may have an unfair advantage.
"'Cheater' schools that are allowed to recruit their players will benefit the most as they will now have the most talented teams," Bolt said. "The opposing team, like us, will not be able to possess the ball until we find a great shot. It creates a different mindset on defense when you know that you only have to play perfect defense for a limited amount of time."
Thomas, who pays attention to detail before every contest, will make slight adjustments if needed when the clock is approved.
"Anyone's coaching style would have to change or adjust to the change of having a shot clock," Thomas said. "Being that you have a limited time in a possession to score, you would have to design and implement late shot clock situations."
Illinois would join California, New York, Massachusetts, Rhode Island, Maryland, Washington, North Dakota, and South Dakota to add a shot clock.
About the Writer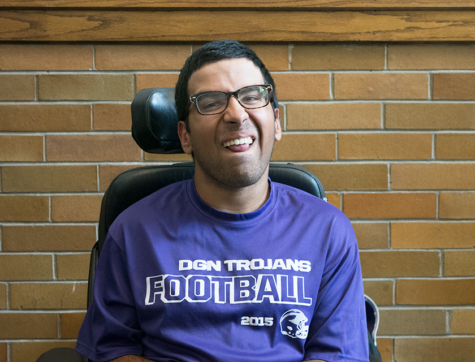 Zain Bando, Sports Editor
Senior Zain Bando is in his second year working with The Omega, but first as an official Staff Writer. In between watching UFC pay-per-views and NFL football,...