Sullivan takes home state diving title
Hang on for a minute...we're trying to find some more stories you might like.
During his sophomore year, junior Kevin Sullivan tore his labrum in his hip, sidelining him from diving for the season. On Feb. 24, Sullivan was on top of the podium, crowned a state champion.
Sullivan scored a school-record 595.80 in the state qualifiers, and a 535.25 in competition en route to becoming the state champion for diving.
"Going into the meet, I was extremely nervous. There were a lot of great competitors and I had no idea where I was going to end up," Sullivan said.
Sullivan has a routine that he religiously sticks to before every dive without fail.
"Every time before I dive, I say Philippians 4:13: 'I can do all things through Christ who gives me strength,'" Sullivan said. "Ever since I was little, I have been very close with one of my uncles and he introduced this verse to me. Since that time, I have said it before every dive."
It's clear that varsity diving coach Anthony Ciezadlo believes in Kevin's athletic ability.
"When Kevin won state, I was relieved, because I knew that if he hit his dives, no one in the state could beat him," Ciezadlo said.
Varsity diving coach Anthony Ciezadlo preaches not only to the character of Sullivan, but also his ability.
"Kevin's biggest strength is his persona, for he is kind, respectful and humble," Ciezadlo said. "In regards to diving, his mechanics are perfect, and he hits his dives consistently. He has no weakness."
Junior Mia Marconi feels Sullivan is always giving every he's got.
"Kevin lives everyday like its his last, putting 110% into what he does," Marconi said.
Sullivan speaks to the difficulty of performing numerous complex dives.
"Diving is a very strict sport. If you make one little mistake you can mess up a whole dive," Sullivan said.
This tops off a journey Sullivan has been taking ever since the beginning of his sophomore year. After a promising freshman year, where he placed seventh in state, he tore the labrum in his hip. he went through six months of rehabilitation to get back on the diving board.
"In the long run, it was more of a positive than a negative because it re-sparked my love for the sport," Sullivan said.
Sullivan plans on staying the course and getting set for the recruiting season for college.
About the Writer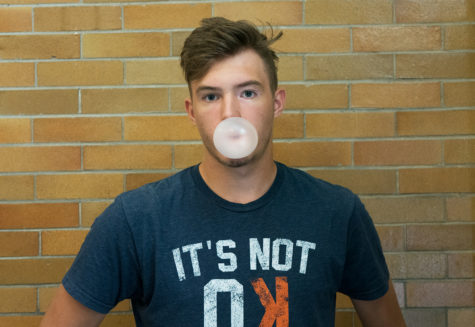 Matt Carbon, Sports Editor
Senior Matt Carbon is entering his second year on the Omega staff as a sports editor. When he's not busy gushing over Kris Bryant or baseball statistics,...