Artist of the month: Ben Gartlen
The Scholastic art show is an annual competition in which talented students from around the area enter pieces that they spent a lot of time and effort working on. Many students come out of the award show very happy with just one honor over four years. Unless, that is you are senior Benjamin Gartlan and come out of high school with four gold keys, four silver keys, and two Honorable Mentions.
Gartlan has been drawing ever since he was a kid. Growing up Gartlan lived in a very creative household and found art as his creative outlet
"My mom especially likes to draw and she taught me most of the basics. My grandma also liked making crafts. She had an entire room filled with art supplies and I would always go to her house to draw." Gartlan said.
Even though Ben's favorite pieces are drawings, he continues to explore different styles of art while he is in high school. Gartlan enjoys creating art that is based on things that inspire him in his everyday life. So most of his pieces are of his family, cross country, and his work. Gartlan also finds joy in the many styles art has to offer.
"During my time at North, I have experimented with painting, printmaking, Adobe Illustrator, Photoshop, 3Ds Max and a bunch of other styles of drawing.  The endless ways to make art fascinates me." Gartlan said. "I am still finding a style. There are so many approaches to making art out there and I am still learning.  At this point, most of my art is just a product of me exploring different mediums. I learn a new medium, then try pairing it with a concept."
Next year Gartlan is attending the Minneapolis College of Art and Design. Where he plans to continue his passion and love for art and design.
"I am most proud of my piece " Calm Before the Storm."  It's a colored pencil drawing of the top seven downers grove north runners at the starting line of a race.  The faces on the paper were about as big as a thumbnail which made it a challenge. I also knew the runners pretty well and I knew that they would see it, which added to the pressure of making it look good.  That year, the cross country team placed second at state and 12th at nationals. Knowing that the boys were out there working hard helped me the through the frustrating process."
About the Writer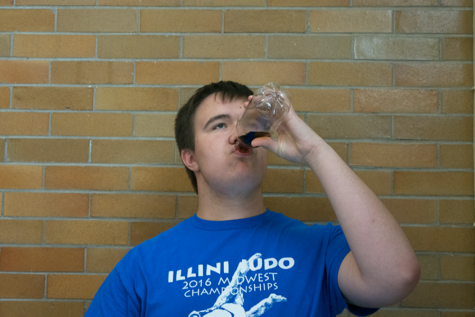 Kyle Schirle, A&E Editor
Senior Kyle Schirle enjoys going by: Kyle, Schirle, Kyle Schirle, Mr. Schirle, and that guy over there. When he is not writing for the Omega he is usually:...