Inaccessibility prevents enjoyment of games
Hang on for a minute...we're trying to find some more stories you might like.
When I was a sophomore during the 2015-16 school year, the varsity basketball team qualified for the regional playoffs at Lyons Township. I had followed the team periodically throughout the year, because I managed at the sophomore level, and they always played after us. With that being said, I decided to attend their first playoff game.
The crowd was electric, and I was careful not to block anyone's view. Approaching the end of the stands, an usher stopped me and told me to sit in the corner. When I asked why she was hesitant. I sat in the corner but never forgot that experience.
For people with disabilities, living with a condition they cannot control is a daily struggle, and remains something they need to manage.
Sometimes, disabled people feel they cannot fit in, making it difficult to do the same things as an able-bodied person can do, including attending a basketball game.
In 1991, Congress passed the Americans With Disabilities Act, stating that any new building or institution built from then on needed to comply with the law. I have to say, the law confuses most people, and it is vague. It specifically states that buildings need to be accessible for all, including people with physical impairments. Unfortunately, there are numerous definitions of the word 'accessibility'.
Since I became a manager, the security personnel treats me with more respect than they did previously. I enter with the team and sit courtside.
However, there was a time when I was mistreated at a few away games before becoming a social media manager for the varsity football and boys' basketball teams.
While you may be thinking that I'm happy about my courtside seat, honestly, I'm worried. Every time the ticket takers tell me to scoot past them, I remember that LT game. It leads me to two questions: what if a student with a disability just wants to see a game? What are they supposed to do?
Schools like Naperville Central, Maine South, and Naperville North installed ramps at their football stadiums, and designated seating areas for people in wheelchairs to see a game.
Hopefully, if the Master Facility Plan ballot measure passes (and the ramps are installed and stands are re-done), D99 will consider making the fence-line wider so more handicap seating can be added and not obstruct someone else's view. At the end of the day, everyone deserves to see their team play, regardless of their ability or disability.
About the Writer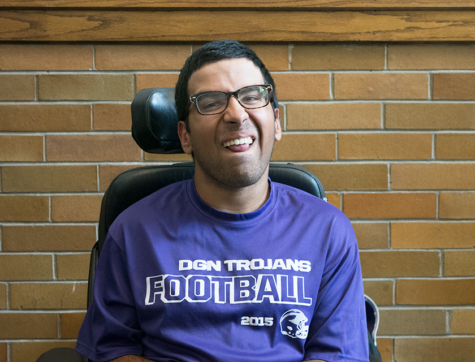 Zain Bando, Sports Editor
Senior Zain Bando is in his second year working with The Omega, but first as an official Staff Writer. In between watching UFC pay-per-views and NFL football,...