Horeni becomes new varsity head football coach
Hang on for a minute...we're trying to find some more stories you might like.
New head coach Joe Horeni returns home to Downers Grove for the first time in a decade. He will just be wearing different colors. A DGS Hall of Famer and 2001 football state champion, Horeni is excited for the opportunity to lead the Trojans, and win a WSC title. Previously the head coach at Highland Park, he led the Giants to back-to-back playoff appearances, finishing 15-14.
Horeni replaces social studies teacher John Wander, who was a 1984 DGN graduate, offensive coordinator, and 2004 state championship head coach. He knows that he has big shoes to fill, but has a set vision for the program.. The news was made official at the Board of Education meeting Feb. 26. He becomes only the fifth head coach in DGN history, and the first since 2002.
"Our motto for this season will be "Extreme Ownership," Horeni said at the players' only meeting at DGN March 1. Ownership in everything you do, from the classroom to the football field. We want to put a team on the field that the community can be proud of each week."
DGN qualified for the state playoffs in four out of the last six seasons, but Horeni's goals remain much higher.
"I grew up in Downers Grove," Horeni said. "I'm excited to have the opportunity to coach at DGN. When the job was posted, I was so excited to be a part of the community I grew up in." "[DGN] is a great school in terms of academics and athletics.
Horeni complimented DGN's athletic success and is excited to begin coaching.
"Obviously, with the [boys'] cross-country team winning a state championship, and the football team having great success, I'm looking forward to competing in the WSC."
Assistant coach Keith Lichtenberg will remain defensive coordinator for the sixth-straight season, and looks forward to a fresh start.
"It has been great to get to know Coach Horeni over the last few weeks," Lichtenberg said.  "From the interview process to the meetings that we have had, he has been the same person throughout. I have come to know him as a leader of character that has talked about the importance of balancing family, teaching, and football."
Horeni is looking forward to matching up with new York head coach Mike Fitzgerald Oct. 19. Horeni and Fitzgerald were assistants together during Horeni's brief stint at Wheaton St. Francis, which makes the game a must-win.
"I view every game as a big challenge, but obviously we are facing a tough schedule. The preparation has already begun with staff meetings and after-school workouts," Horeni said.
Horeni is inspired by past DGN coaching legends and looks to build his own legacy.
"Coach [Dick] Carstens, Coach [Pete] Ventrelli, and Coach [John] Wander have done a tremendous job of building this program over the years," Horeni said. "I am honored to hold the same title as them. We need total buy-in from all our stakeholders. Our motto this year will be "Extreme Ownership," This means taking complete control of everything that you can have an impact on. If we all buy in and live by this motto, we will be successful."
About the Writer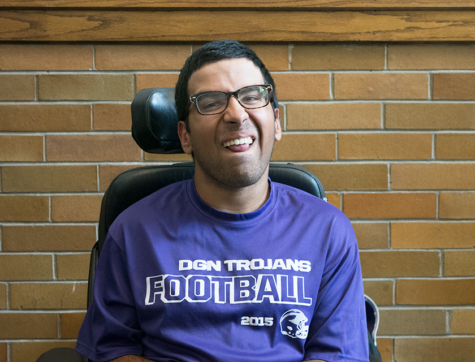 Zain Bando, Sports Editor
Senior Zain Bando is in his second year working with The Omega, but first as an official Staff Writer. In between watching UFC pay-per-views and NFL football,...