Cawthorne's 2018 Grammy Predictions
Hang on for a minute...we're trying to find some more stories you might like.
Record of the Year:
"Record Of The Year" is a category in which the board recognizes the artist's performance as well as the overall contributions of the producer(s), recording engineer(s) and/or mixer(s) if other than the artist. Although all of the nominated songs are broadly different, I predict that this year's winner is Bruno Mars' "24K Magic". The high-energy and synth-heavy song is heavily influenced by late 70's and early 80's beats. Every sound is clear and every sound works with the others in perfect harmony. I would describe "24K Magic" as "Uptown Funk's" older brother, due to the fact that Mars wrote it while "Uptown Funk" was making its way to the top of Billboard's Top 100 list.
"I'd say that ["Uptown Funk"] was always in the back of my mind when we were doing it. It was to get me to this record. It's a bridge," Mars said.
Seeing as "Uptown Funk" won this same category in 2016, it is appropriate that a song inspired by it receives the same type of recognition.
Album of the Year:
This year, I believe that Album Of The Year will be going to Kendrick Lamar for his album "DAMN." Kendrick Lamar is truly changing the game with this album.  This 14-track album is what is known as "conscious hip-hop," or hip-hop that challenges societal norms and consensus. This album is exactly what society needs right now, as it covers topics such as the Black Lives Matter movement and police brutality. The album is the right amount of boisterous; not too in your face, but enough to make you question where you stand yourself. Interestingly enough, the narrative that this album tells is completely different if listened to from track 14 "DUCKWORTH." to track one "BLOOD." The stories that this album tells are both worth listening to and are Album Of The Year worthy.
Song of the Year:
Song Of The Year focuses more heavily on songwriting, and I think that Logic's powerful "1-800-273-8255" is the clear winner. The song mirrors a phone call to a suicide hotline, in which someone facing suicidal thoughts, and then their recovery in the second verse. This song truly shows the impact that music can have on a person. The song, being named after the National Suicide Prevention Lifeline, spreads awareness of both mental health issues and suicidal thoughts. In the three weeks after being released, calls to the National Suicide Prevention Lifeline rose by 27% and visits to their website increased from 300,000 to 400,000 visits over the following months. When this song was performed on the MTV Music Video Awards, Logic performed alongside suicide attempt survivors and people who have been affected by suicide. Calls to the hotline increased by 50% after the show. Logic refers to this song as the "most important song" he has ever written. "1-800" is proof that music can change, or save, a person's life.
About the Writer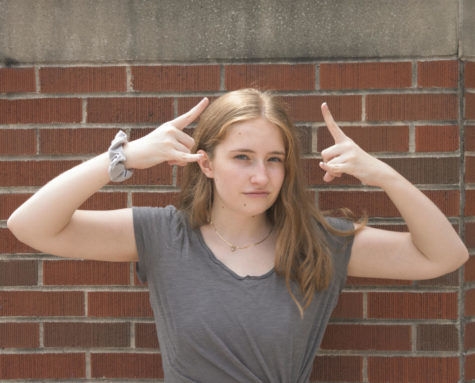 Ellie Cawthorne, Social Media Editor
Senior Ellie Cawthorne is excited for her first year working on the Omega staff. In addition to the Omega, Ellie is also heavily involved with theatre...