Girls' volleyball bonds over success
Hang on for a minute...we're trying to find some more stories you might like.
At 7:35 p.m on Nov. 3 at Geneva High School, St. Charles North (37-5) stormed the court in jubilation as they advanced to the IHSA state semifinals in three sets (25-15, 16-25, 15-25). For the Trojans (27-13), however, it was the end of a long and memorable season that had many significant triumphs and accomplishments.
After 29 years, the girls' had won their first sectional championship since 2006 and ended a 10-year drought, winning a WSC title. Despite a trip to Normal being cut short, the team is already looking ahead to next season and wants to focus on the positives of the season as a whole.
Head coach Mark Wasik, who has been with DGN volleyball since 2006, reflected on the loss.
"My initial reaction to the loss to St. Charles North was a disappointment," Wasik said. "Their sadness was a reflection of their hard work, how strongly they bonded as a team, and the awesome season that we were able to have."
The team is saying farewell to seniors Kessie Olekanma, Madi Chudzik, Cassidy Baran, Kinzie Geist, and University of Villanova commit Clare Delaplane, all of whom were key pieces that helped shape the team's success.
On and off the court, the girls continued to grow closer as a team, which, in their opinion, kept the wins coming during the postseason.
"Our team chemistry has improved a lot from August until now," Olekanma said." At first, a lot of the juniors were shy and quiet, but these four months allowed us to warm up to each other. The long tournaments have helped us get to know one another, and we enjoyed linking up at Andy's Frozen Custard on the weekends."
Junior Jade Casper feels that her team's positivity and winning attitude helped her mature and become a better player because of the daily positive vibes that her team brought to each practice and game day, regardless of the outcome.
"Playing side by side to the seniors on my team has really helped me to grow to a different level of maturity in volleyball," Casper said. "They have helped me to push not only my physical skills as a player but my intellectual skills as well. Without them, I wouldn't be the player I am today."
A regional championship victory in front of a home crowd also stuck with junior and Saint Louis University commit Margaret Mahlke, knowing that Lyons Township (18-18) wanted to win a title for their coach who is retiring at the end of the school year.
"Winning a regional title at home means the world to me and my teammates—especially our seniors," Mahlke said. "It was their last time playing a volleyball game in the Purple Gym, and to go out with a huge win made me super happy for them because I knew it meant as much to them as it did to me. It really was an experience I will never forget."
Sophomore Beth Dunlap's favorite memory of the season was upsetting number-one seed Glenbard West (29-10) in the sectional championship with her teammates.
"To be completely honest, it felt amazing [defeating the Hilltoppers]. Before the game, I tried my hardest to not think about it and not psych myself out, but after the game, it was an unreal feeling of bliss knowing my team was able to make history," Dunlap said.
Olekanma, the starting libero, was named to the Top 20 Uncommitted Athletes list in the state for girls' volleyball and hopes to pursue a career in pharmacy in college. On Dec. 3, Delaplane and Olekanma competed in the 8th Annual Illinois Volleyball All-Star Game, which took place at College of DuPage.

"When I heard the news, I was super excited because I did not think I would be nominated," Olekanma said. "I can not wait to play in the showcase game in December because a lot of girls I played club with will be there, and it will be fun to reunite with them as we play our last high school volleyball game."
Olekanma played tennis, basketball, and soccer, and participated in gymnastics and dance when she was younger. However, she ultimately decided volleyball would be her best outlet.
"My friends in sixth grade all played club volleyball, so I decided to pursue it with them. It was fun being on the same team as them and we traveled to tournaments in Michigan or Arizona," Olekanma said.
With her DGN volleyball career complete, Olekanma feels she has learned multiple lessons from her coaches and teammates that will help her in the future.
"Being a part of the team this year has made me mature as a player and a person in many ways," Olekanma said. "I loved working with different age groups throughout the season, all the way from camp up until state playoffs. The underclassman such as Mikayla [Sweeney], Maddie [Degiorgio], and Beth [Dunlap] each gave me a new perspective on ways to view the game."
As Wasik looks ahead to 2018, he is looking forward to extending their playoff run even further. In his 12 seasons as head coach, this team is one he will always remember. Despite the losses of Delaplane and Olekanma, he is looking forward to the new season.
"Losing [Delaplane] and [Olekanma] is huge as they were huge contributors to our team," Wasik said. "[Delaplane] led us in many statistical categories such as kills, aces, and was an anchor on defense and in serve receive. [Olekanma] was an outstanding defensive player for us, leading us in serve receive and in digs. That said, we return many of the same pieces from this year, and as most of them continue to train and improve their games, we have the potential to have another great year in 2018."
About the Writer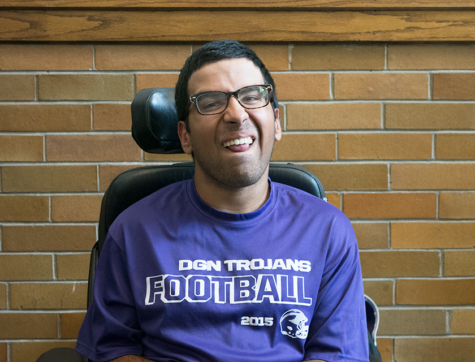 Zain Bando, Sports Editor
Senior Zain Bando is in his second year working with The Omega, but first as an official Staff Writer. In between watching UFC pay-per-views and NFL football,...