Reaching the goal: Soccer team raises awareness, money for pediatric cancer patients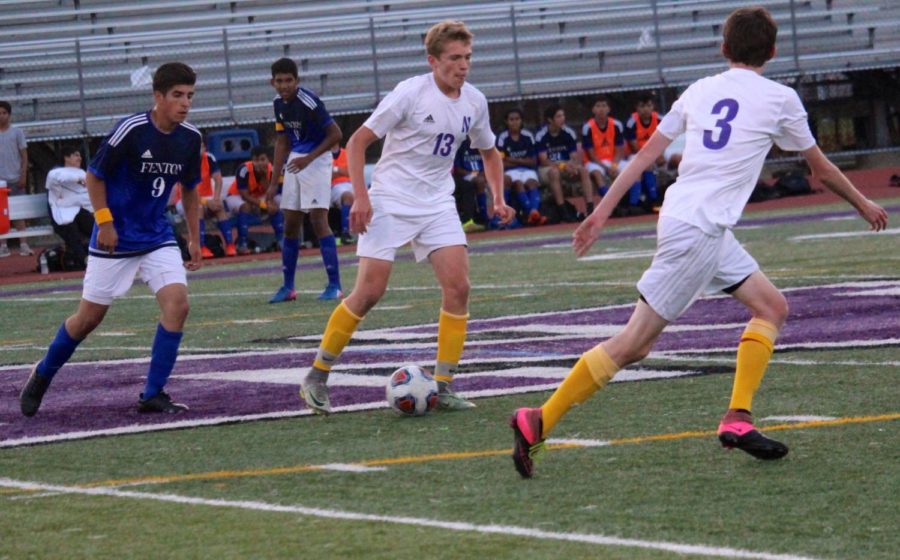 As the soccer team entered Carstens Field on Sept. 19, a crowd around three times the normal size watched as they breezed through their regular warm-up routine adorning bright yellow sweatbands. The soccer team participated in a school-wide "Go Gold" fundraiser for pediatric cancer. All athletic teams wore some sort of gold in one of their matches between Sept. 8 and Sept. 22. However, the soccer team has a special place in their heart for these efforts.
After two varsity soccer players, senior Ben Tomchek and senior Tim Flavin battled and defeated forms of pediatric cancer, the moms of the boys decided to give back to the organization, Cal's Angels, that had given them so much. During treatment, Cal's Angels provided gifts and continuous support for the boys and their families.
In an effort to raise money, the mothers sold t-shirts, organized a raffle and set up opportunities for donations. They raised over $4,200 in all. Cal's Angels fundraising goes towards wishes, awareness, and research as pediatric cancer is one of the least funded areas of cancer research.
"DGN's support [during treatment] was amazing. In and out of school I had people constantly checking in on me. Whenever I needed something, there were plenty of people willing to step up and help," senior Ben Tomchek said. "The turnout itself was great. We sold so many shirts, and many people came out to support us. Overall the night just had a very happy tone, and it was great to be able to see everyone who supported me throughout my cancer battle."
Senior Timmy Flavin's mother, Judy Flavin, discovered the opportunity first and brought it to the attention of head coach Mike Schmitt, who was fully supportive of applying to be a Go Gold school. The team found out in August that DGN was selected, and the soccer game was the only non-football game on the list. However, Cal's gave DGN the opportunity to include all fall sports, and all coaches agreed to participate.
"It's one thing to have an idea in your head about how something will go and how great it will be, but I think the enthusiasm that the players and the parent volunteers experienced along the way was even greater than anyone hoped. It was so evident that everyone felt good about being involved in the effort and the students and community really showed up to support both the awareness campaign and the athletes," mother of senior soccer player Declan Kramper, Eileen Kramper, said.
The game itself kept fans engaged, as the boys were tied with Fenton 2-2 with about eight minutes left in the second half. Senior Tyler Cree scored a goal to cap off a hat trick performance en route to a 3-2 win.
"It was really fun just to see everyone there supporting a good cause. It was good to see the two people on our team who were affected by cancer happy that everyone was supporting them," senior varsity soccer member Ryan Shanahan said.
The team is currently 8-2-2 and was recently ranked 19th in the Daily Herald's top 20 on Oct. 2. With their first victory over Hinsdale Central since 2005 and their first win against DGS since 2012, the boys are hopeful for a successful end to their season.