Kyle Schirle's Grammy predictions
Hang on for a minute...we're trying to find some more stories you might like.
Record of the year– "Hello" by Adele
Adele's song "Hello" is a mix of incredible vocal  and musical talent. Adele is definitely one of the top female vocalists in the world right now, the ability to match her strong voice with a mellow and soft beat shows great musical intelligence. She displays talent and songwriting ability more than her competition
Album of the year– A Sailor's Guide to the Earth- Sturgill Simpson
Sturgill Simpson creates a very mellow old school country tone on this record. He displays songwriting ability by making listeners almost feel the pain that he is putting across in this album. The best song on this album is his cover of Nirvana's "In Bloom"
Song of the year- "Hello" by Adele
This song as mentioned before shows more musical intelligence than her competitors
Best new artist– Chance the Rapper
Chance is a rare artist. A rapper who uses jazz and other nontraditional beats to enhance the quality of his record. Not to mention his flow and singing talent. When he writes he often connects music to his personal life which is more respectable than what many artists choose to write about.
Best rock performance- "Blackstar" by David Bowie
Where do I even start? This song is Bowie's farewell to the world. He created this song shortly before passing away. He adds old style Bowie singing over a more modern beat. He creates a very trippy and almost creepy tone.
Best metal performance– "Silvera" by Gojira
Gojira creates a very heavy tone in this metal hit. In one of the most divided music scenes Gojira finds a way to please all types of metal fans. They use intense riffs and very complicated and exciting solos throughout this metal masterpiece.
Best rock song– "Burn the Witch" by Radiohead
This song creates a very ominous tone that makes you wanting to sing the song throughout the day. Tom Yorke's singing style matches the music perfectly and will leave you with chills everytime you listen
Best rock album– Weezer (the white album)- Weezer
This album brings out old school Weezer. This album musically speaking blows its competition out of the water. This is definitely one of Weezer's best. The highlight is "California Kids"
Best alternative music album– Blackstar by David Bowie
As stated before this is Bowie's goodbye to the world. He made sure that it was his greatest album that he had ever produced. Creating the same creepy and depressing tone throughout the album. The highlight is "Lazarus"
Best rap song– "Ultralight Beam" by Kanye West featuring Chance the Rapper, Kelly Price, Kirk Franklin, and The Dream
This song has a very uncommon beat put with an all star cast of hip hop stars. The Dream creates a very choir like singing style, chance gives a very fast paced modern hip hop verse, and classic gospel rapper Kirk Franklin ends the song with some motivational words. The mix of talent alone in this piece makes it grammy worthy.
Best rap album– Coloring Book by Chance the Rapper
This album best demonstrates the ability to use uncommon beats and flow to create a masterpiece. This album stands ahead of its competition due to the fact that you can walk away from this album feeling like you listened to a very original rap album, which is uncommon. The highlight is "Finish line/Drown"
About the Writer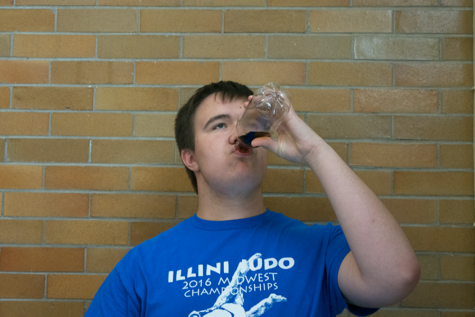 Kyle Schirle, A&E Editor
Senior Kyle Schirle enjoys going by: Kyle, Schirle, Kyle Schirle, Mr. Schirle, and that guy over there. When he is not writing for the Omega he is usually:...