Group discusses school life as a racial minority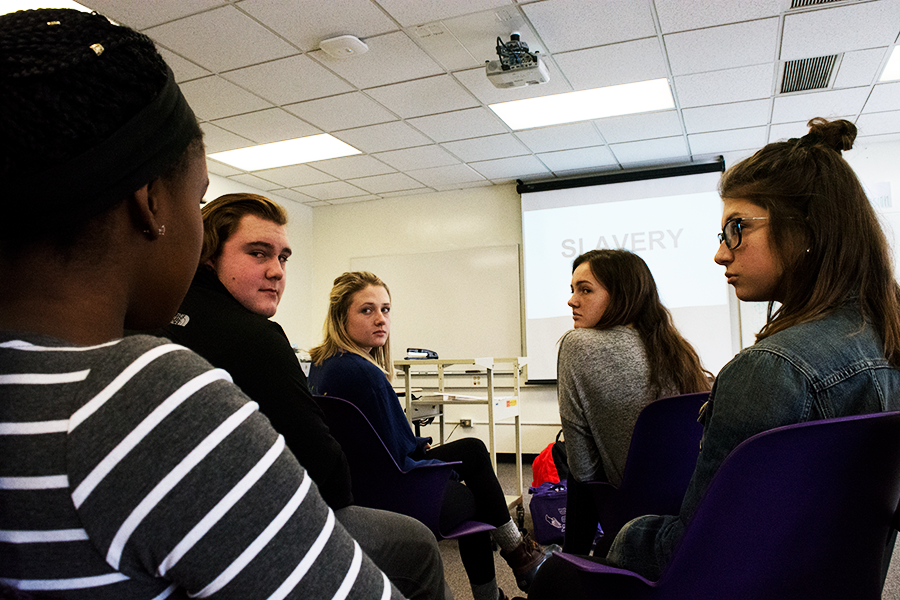 As Prevail Bonga walks down the halls wearing her "Melanin Poppin" shirt, she overhears one student say to her, "We get it; you're black. You don't have to wear the shirt." She wanted to break down in tears, but she decided to let it roll off her back as she usually does.
Adult leaders selected Bonga to be a member of Unified Men and Women of Strength (UMAWOS) to talk about issues like this. The group is made up of selected African-American students who meet twice a month to talk about being an African-American student at DGN. The group began when students of color talked to physical education chairperson Courtney White about their experiences in school. White took this information to principal Janice Schwarze and they decided a group needed to be formed.
"Their voices are somewhat drowned out because there aren't that many African-American students at North. We wanted to give them an opportunity to share their concerns and give us an opportunity to work with them," White said.
The administration selected students who were perceived as lacking other resources at DGN, such as AVID, or meetings with a social worker, and who faculty recognized as strong leaders in the school. African-American senior Dante Fields is excited to be a part of this group.
"I definitely think it will help solve things at DGN. We have a lot of smart African-Americans in our group and we all come from different backgrounds and using those backgrounds will help us, especially with the younger class of freshman. They can work with [UMAWOS] all four years while us seniors help build a base for them," Fields said.
Bonga talked to White about problems she faced at DGN before UMAWOS was created. She helped begin the committee and communicates with principal Janice Schwarze regularly about her thoughts on ways to improve DGN.
"[African-Americans] needed something to unite each other and help teach other people how to be proud of their heritage, ethnicity and background," Bonga said.
Additionally, UMAWOS gives students a chance to talk to African-American faculty such as White, parent liaison Walter Williams and English teacher Britni Mitchell, who can relate more to them, according to Bonga. Jenne Dehmlow, social studies chairperson and adviser of UMAWOS, feels that this will positively impact students.
"I think we struggle as leaders and educators in general to present to students diverse people in front of them. You have a chance to see yourself reflected in the people in front of you. And that's really hard for students of color for a variety of reasons," Dehmlow said.
Fields, Dehmlow, and Bonga say that some common issues that African-American students face are being the only person of color in their class, being the subject of racial slurs, and feeling like they are forced to be the voice for all African-Americans. However, several positives were brought up in the meeting about support available to them and the learning experience. Bonga transferred from Lisle High School her sophomore year and faced the same problems there. 
"Going to DGN gave me the opportunity to actually control my future. I have access to technology, education and activities one could only dream of. I have absolutely amazing teachers and coaches and I'm glad that there's so many things that I can do here to help me succeed later in life," Bonga said.
Schwarze thought about starting a group like UMAWOS for a while. Now that there is a need for the group, according to Schwarze, it was just a matter of putting together dates and times. Bonga says she feels extremely fortunate that Schwarze is supporting this group.
"I hope there will be an awareness that comes out of this, for other students and for our faculty and that students will find support for each other," Schwarze said.
The group does not know their plan for the upcoming years, but they will meet once a month throughout this year. They are unsure of whether or not the group will become accessible to
About the Writer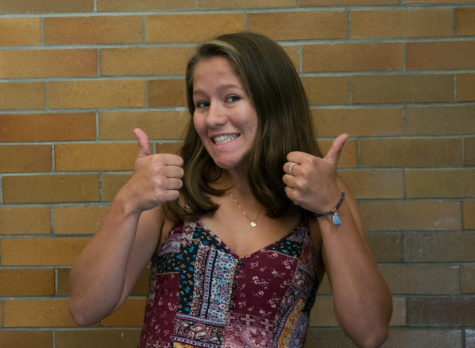 Natalie White, Editor-In-Chief
Senior Natalie White is on her third year on staff. In between naps and unnecessary food trips, she can be found in her car jamming to Beyoncé running...