Students give back to breast cancer patients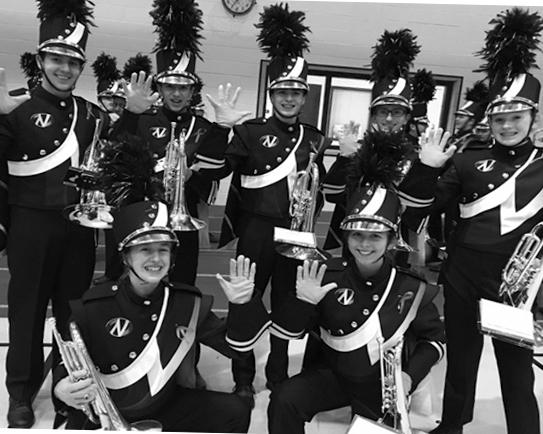 This year, the marching band raised $800 for breast cancer awareness. Band students wore pink gloves and ribbons for the pink-out game in honor of breast cancer surviors, including former fine arts department secretary Partrica DePeder.
DePeder was officially diagnosed with breast cancer in July of 2014. She was treated for cancer  from Dec. 2013 to Oct. 2014.
"The recovery is lifelong – there's always 'something' going forward. Always the scars to see as a reminder.  But, most importantly, I can now go forward being a breast cancer survivor," DePeder said.
Moved by the strength and motivation DePeder showed, the band spread awareness about breast cancer along with the football team, Athenas and N-Zone.
"She continually demonstrated a positive attitude and was determined to beat her cancer," fine arts chairperson Brayer Teague said.
In the beginning of  DePeder's diagnosis, she was  surprised to hear the news  from the doctors.
"My reaction was exactly what you read about in all the literature.  When your doctor uses words like 'malignant' and 'breast cancer' and 'next steps,' you simply zone out," DePeder said. "In my head, I was like 'huh' I hadn't even brought a family member with me to hear the results and help me process."
DePeder took the decision to undergo treatment to remove cancerous cells. Later, as the lab results came in,  it showed that  symptoms of breast cancer were gone.  
"I felt thrilled, guarded, relieved, scared – again, many emotions!  When I finally found out that, '…although there is no cure for breast cancer, no further treatment is required at this time' those were frightening, yet beautiful words," DePeder said.  
As DePeder looks back at what she has gone through she takes it all as an experience not to forget and seeks the good from it all.
"My memories of the ordeal include some that are funny, fond and loving, creepy, and mostly blessed and grateful because of all the doctors, surgeons, nurses, physical therapists, family, friends, colleagues, and everyone that surrounded me. They all surrounded me with love, kindness, understanding, and whatever support I needed," DePeder said.
Through months of cancer treatment DePeder's friends and colleagues supported her and her family.
 "Brayer Teague coordinated an incredible gift. He arranged an entire month worth of dinners for me and my husband to be delivered to our doorstep.  This was no easy task, since I have many food allergies," said DePeder. "The dinners that arrived were such a blessing.  They provided a lot of  daily strength, as those who made the dinners clearly gave their time, effort, and love to prepare and deliver those meals."
When the marching band decided to help spread awareness about breast cancer, band students raised money to buy gloves and ribbons to wear with their uniforms.
"There were countless people who dedicated tons of time to cutting ribbons, pinning them together and distributing them. Our band takes pride in helping the community in any way that we can, and often this is one of our main community actions to show our support. Our students are very generous, and understand the importance of reaching out to those who are suffering from cancer, as well as their families," band board president Audrey McDaniel said.
Helping to spread awareness teaches students to learn the importance of helping others in their community.
"Awareness is a major part of helping to find the cure for cancer, and our pink gloves were definitely a huge awareness factor," McDaniel said. "We are helping a cause that is above ourselves and above our human tendency towards selfishness— not only are the band members helping others, they are learning important life lessons as well. I saw a sense of generosity from each and every member of our band, and I find this to speak exceptional volumes towards our program."
Spreading awareness is one way to support the people in our community.
"As a breast cancer survivor, I know that awareness is key to the advancement of cures for any illness," DePeder said.