Voelker earns state award
Hang on for a minute...we're trying to find some more stories you might like.
At a first glance, drawing and painting teacher Marty Voelker appears as an average art teacher,: light washed worn jeans, a weathered Marvel t-shirt, and gym shoes. But it isn't the attire one would expect from a man with a degree in Economics from the University of Michigan.
It may have taken Voelker years to find his way to a career in art education, but the Illinois Art Education Association rewarded that decision this year when they named him "Secondary Art Educator of the Year" for 2015.
The first time he chose something else over art was when he was living in London and attending the American School in London his freshman year of high school. Forced to decide between his art class and an additional writing class, Voelker chose writing.
"It stuck with me as a teacher. I feel that it's important that teachers tell students when they see something in them that is a real gift or special, because it makes a big impact. I think I knew that I was a good artist but also a good writer but having the [writing] teacher say, 'I want you to keep on' put be in a position where I had to make a hard choice," Voelker said.
After returning to America the following year, Voelker focused more on academics. Although continuing to create art in his free time, his main focus was on maintaining grades to get a good job, Voelker said.
"I went to college and my viewpoint was immature. I went to college and I thought 'I've just got to get good grades and then I'll get a good job', I wasn't thinking about what I was training myself for," Voelker said.
Following a single economics job interview, Voelker knew that he was on the wrong path. He spent the next two years at the Joe Kubert School, studying comic drawing. After years of freelancing as an artist, Voelker finally became a teacher.
"He encourages you to go out of your comfort zone," junior Audrey Staron said. "I like to do more realistic art and he's kind of encouraged me to try some more abstract or objective kinds of drawings."
Voelker was nominated for the IAEA award for "secondary art teacher of the year" by one of his former student's parents. After being selected, Voelker submitted a 33-page binder containing 3 letters of support from colleagues, a lesson plan, evidence showing how he was engaged in promoting arts, and soem of his freelance work.
"Mr. Voelker is the kind of teacher that recognizes artistic potential in students who don't even know they have potential, and then works tirelessly to help them achieve excellence," fine arts department chair Brayer Teague said. "He never gives up on a student, and he pushes them to do their absolute best work."
Despite numerous years spent trying to find his niche, Voelker finally has found the balance.
"Most people have more than one gift, so when they have to make that decision they feel like they're choosing between two that maybe are mutually exclusive. But if you use your imagination and you get advice from your family, your counselors and your friends, they can suggest ways that you can take things that you think don't go together and put them together," Voelker said.
About the Writer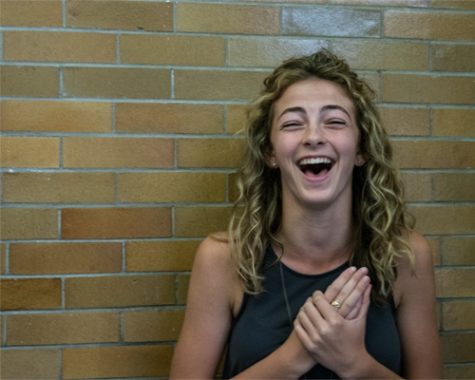 Abbe Murphy, Print Editor-in-Chief
This is Abbe's third year on staff. When Abbe isn't teaching someone how to use In Design or fixing picas, she can be found hurdling with the track...