Prism resolves issues with DGN
Hang on for a minute...we're trying to find some more stories you might like.
Prism, DGN's gay-straight alliance club, petitioned last March for the administration to allow teachers to show support as "allies" through posters around the school and to change the bullying policy in the student handbook to protect students from bullying because of sexual orientation.
Since then, the school has changed the policy in the handbook starting at the beginning of the 2015 school year and the club was granted permission to begin work on new posters.
Last year, Prism's petition gained support from 1,248 students, earning more than 1,240 signatures.
The goal of the petition was to get sexual orientation along with other aspects covered under the student handbook's bullying policy and to allow teachers to show their support for the club by having their picture on a poster for the club.
"One of the things that our club was trying to do was to kind of come out. You know be more public and be there for kids in the building to know that they're respected and supported by their student body," Prism sponsor Lois Graham said.
"So in some ways the petition did that. It became clear to the kids in our club that they are respected and they are supported," Graham said.
According to Principal Scott Kasik, one of the reasons that the posters were blocked was because he did not want to put teachers in a position where they felt that they had to take a certain stance on the controversial topic.
"It doesn't have anything to do with the fact that it was Prism," Kasik said.
"If, for reasons to not have anything to do with the club, some teachers just don't like their pictures up, and I didn't want that to be misinterpreted that a teacher for a totally unrelated reason didn't want their picture displayed that someone might make an assumption of what they support or don't support," Kaisk said.
Unlike all other posters and flyers that are hung up around the school, the Prism support posters did not go through the usual process of approval through the student activities office.
All posters that are to go up at DGN are required to go through the student activities office first for pre-approval before they are posted up in the hallways.
Prism sponsors Mrs. Graham. Mr. Tompkins, and Ms. Tomek have made the compromise to put their own pictures on the posters for the club instead of pictures of supporting teachers. These posters will be up around the school in the near future.
One of the goals of the petitioning was to change the student handbook bullying policy to protect bullying of sexual orientation.
The current bullying policy has been changed to the updated board policy, which had been revised August 2013 and November 2014.
"When concerns were brought up in terms of what our statement read in the student handbook, we realized that the newly changed board policy had yet to be transferred," Kasik said.
"So actually students bringing the bullying policy to our attention was good because it then caused us to move over the new board policies which had been written kind of independently of this issue but we are now aligned with what's in our student handbook is exactly the same thing that is in our board policy," Kasik said.
The Equal Access law of 1984 mandates equal access and rights for all student groups.
Prism saw the denial from student activities for them to put up their posters a violation of this law. Prism was working with Illinois Safe Schools on with intentions of suing the school with a violation of the law but never followed through.
"It got to a certain point where we were only doing this and weren't getting anything else done. So we just put in on the back burner and now we are working on the safe zone stickers, we are working on stuff for the day of silence this year," Prism club president sophomore Emily Grigg said.
About the Writer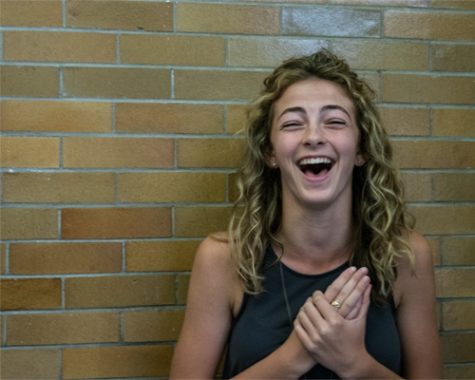 Abbe Murphy, Print Editor-in-Chief
This is Abbe's third year on staff. When Abbe isn't teaching someone how to use In Design or fixing picas, she can be found hurdling with the track...