Girls' swimming places second at state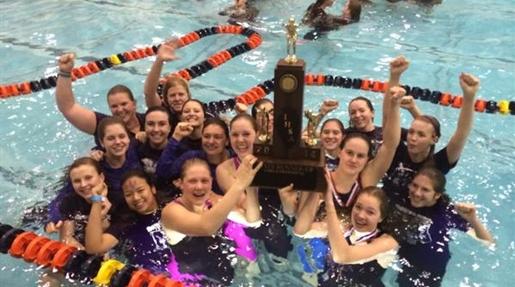 On Saturday, Nov. 22, the girls' swim team traveled to Evanston for the IHSA state final meet. They came in second place with a total of 118 team points. Seniors Gaby Serniute, Daria Wick, Emily Albrecht, and sophomore Linsday Mathys were on the 200-yard freestyle relay team that took 1st with a time of 1:35.24. Serniute took 2nd place in the 200-yard individual medley and Albrecht placed 4th in the 50-yard freestyle.
Despite losing the Sims sister's leadership and talent, veteran swimmers stepped up throughout the season. "We lost two great swimmers last year and everyone was saying that without them we weren't going to be able to accomplish anything and it was awesome that we were able to come together as a team and get second at State," Wick said.
Coming into the season, the team was not expected to repeat the type of season they had last year. "I think a lot of people were surprised to see us come back as strong as we did," Serniute said.
Team chemistry built up during the season played a role in the girls' success at the state meet. "We all trust and respect each other, and we all know that we have teammates that trust and respect us in return. Going into this meet we knew that we had teammates that would support us no matter what happened," Wick said.
Wick, Serniute and Albrecht committed to continue their swimming careers in college. Wick committed to swim at University of Chicago, Serniute committed to University of Illinois at Urbana-Champaign, and Albrecht committed to Ohio State.
Jake Stevenson | Sports Editor