If you attended school Nov. 8, you might have noticed the surprising amount of students with headphones on, and phones out; all playing the same song. Conversations and compliments erupted throughout the day over DGN Senior Sarah Lampsa's, "You Don't Deserve my Love". 
Lampsa made her debut as a songwriter and singer at midnight Nov. 8, when she released her song onto all streaming platforms.  
"You Don't Deserve My Love" was a six month process, originally written in April. Lampsa started working with producer Derek Berg in June. Berg is prominent in the community for his work with young local artists, including 2019 DGN graduate Ellie Banke. 
The song inspiration came after a difficult time for Lampsa, writing lyrics and music was a way for her to cope. 
"I've always used songwriting as a way to express my emotions and in this moment it really helped me bring clarity to my decision making process," Lampsa said. 
Lampsa has been an avid member of the DGN music program, being a four-year choir member and joining multiple honors ensembles. In addition to her singing she plays the guitar, violin, and piano.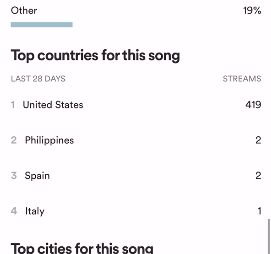 "It's her orchestra participation. It's her choir participation. It's her taking AP music theory last year. She's taken advantage of the opportunity here and there that prepares her to take further opportunities now outside of school and beyond school," choir director Frank Piekarz said.
Her music style could be compared to artists such as Billie Eilish, Gracie Abrams, and Tate Mcrae, however Lampsa doesn't have a distinct inspiration, and prefers to create her own unique sound. 
"The cool thing about Sarah is that her voice is really versatile. She has matured over the past four years, her voice has grown a lot warmer. That is due, in part, to the various opportunities that she's taken," choir director Beth O'Riordan said. 
Lampsa plans to pursue music in college and as a full time career. Her top schools are University of Southern California and Berklee School of Music, where she would major in songwriting and music business.
"Creating a song that people have already heard isn't gonna make an impact. But making something that sounds different and new will create something people are interested in," Lampsa said.