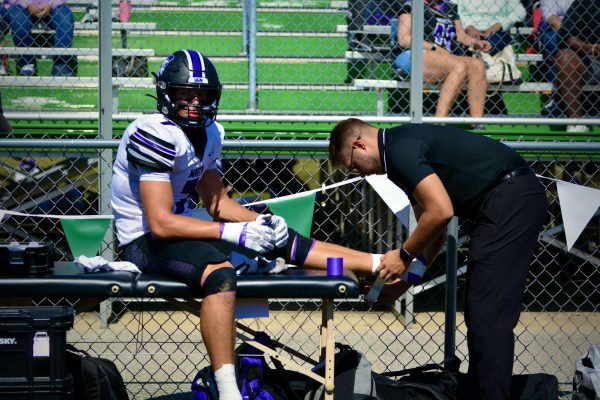 Athletic trainer Matt Carbon is no stranger to life in Downers Grove. Carbon graduated from DGN in 2018 and attended Marquette University, where he received his Bachelor's in exercise physiology and Master's in athletic training. He was hired this year to fill the position vacated by longtime trainer Jill Ferree.
Before being hired at DGN, Carbon worked multiple jobs to gain experience. He began as a Rehab Technician at ATI and has worked at high schools in Illinois and Wisconsin. However, his most notable role was working as a Team Attendant for the Milwaukee Bucks.
"Working for the Bucks was a great experience. I got to meet their athletic trainer and shadow him. It gave me a cool inside look at what the profession is about," Carbon said.
Starting a new job can be nerve-wracking, however, being a DGN alum has helped Carbon overcome the anxiety. His familiarity with the school and community has helped him settle into his new role.
"There's a unique bond here and I've always known I wanted to be back in this community in one way or another," Carbon said. "Knowing the landscape and the people definitely makes it a bit easier to come back and have a smooth transition."
Carbon has a passion for health and wellness and hopes to help student-athletes at DGN stay healthy.
"Getting to work with athletes and staying connected to sports is very fulfilling for me," Carbon said. "I'm going to do my best to continue the long history of quality care of athletes at Downers Grove North."