DGN boys' varsity soccer won their first playoff game against DGS Oct. 17, marking the team's third time going to a regional final in three years. Playing in a rematch against crosstown rival DGS, DGN won 3-1. 
"It's a great feeling to have beaten DGS twice in a season, especially with the second win being a playoff game," junior midfielder Kobi Marquez said. "It's always exciting to play them because a lot of us have friends who play for DGS. This just makes the rivalry mean more because we want to earn those bragging rights." 
With single-elimination, the game posed a high stakes environment, however the team was optimistic after winning the Downers Grove Cup against DGS Sept. 28.
"I was confident going into the game, and even after the first goal was scored I was still confident we would come back and win," senior Ben Llewellyn said.
At halftime, DGN was down 0-1, after senior Jimmy Harkness scored an own-goal while trying to clear the ball. But just ten minutes into the second half, Llewellyn scored DGN's first goal to tie the score. 
"I made my run into the middle of the six yard box, and with a beautiful cross from Jimmy I just put my head on it. After that goal I was 100 percent sure we would win the game," Llewellyn said. 
The energy shift was apparent as the Trojans began to take the lead, with the team increasing their communication and teamwork on the field. Marquez, who has scored five goals in the last four games, scored the game-winning goal of the Regional Semifinal. 
"I was just in the right place at the right time, I got a lucky rebound which I put in the back of the net," Marquez said. 
With the third and final goal scored by senior Riley Botha, the team knew that they had the win on lock. DGN parents and students showed up as devoted fans and celebrated in the stands.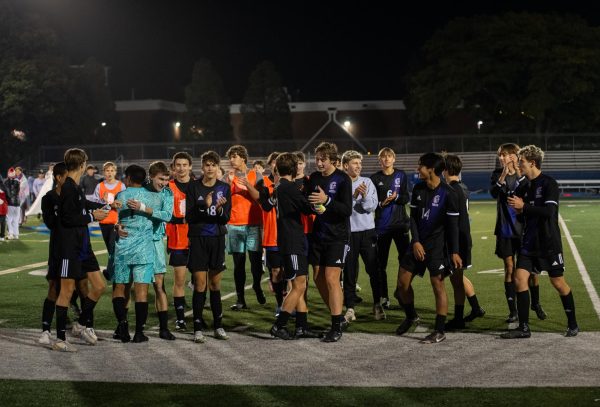 "I love showing my dedication to the school and my friends, supporting them in every way I can because win or lose, their love for the sport is incredible, and I just love to see it," senior Jesse Justice said. 
The team will return to LT Oct. 21 at 1 p.m. for the Regional Championship match against LT.  
"I feel like we can surprise a lot of people on Saturday, but we have to play a full 80 minutes of organized and energized soccer," Llewellyn said.