In partnership with the League of Women Voters, DGN Government Club hosted a National Voter Registration Drive Event Tuesday, October 3rd during all lunch periods. Volunteers helped students with the process, registering 150 DGN seniors on the day alone. 
Government Club Sponsor and social studies teacher Keith Lichtenberg takes charge on the important task of encouraging students to vote. Through creating a flyer displayed on screens all throughout the building and shared with social studies classes, as well as emailing all seniors and their families with the information needed to get registered to vote, Lichtenberg's goal is to make it almost impossible for a student to not get registered to vote.
"According to the League of Women Voters (LWV), DGN has the highest voter registration rate out of any high school in the entire area," Lichtenberg said. "We've now defeated other schools years and years in a row. We have great students who want to vote, great parents who are supportive of that, and teachers who are communicative and organized."
The drive took place in the Commons, with student and LWV volunteers available to help out during each lunch period.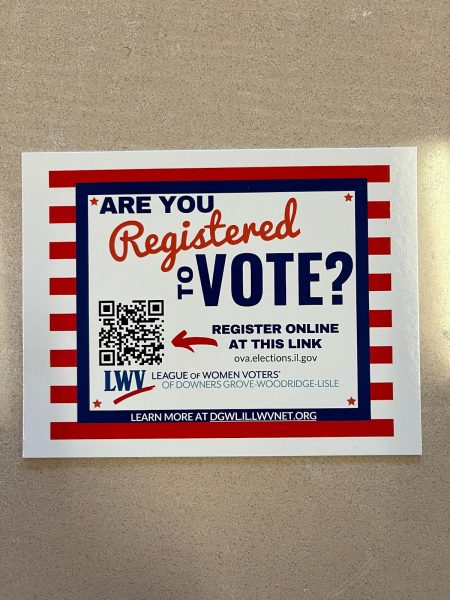 "I grabbed a slip from the volunteers with the QR code, and then I filled it out, and that's how I registered to vote. It took around 10 minutes, which was pretty convenient. I wouldn't have done it otherwise," senior Sarah Paul said.
Since its start in 1920, The League of Women Voters has been involved in getting people to vote through education and registration. 
"It's really important to get young people to vote because this is about your life. It's about your climate, it's about jobs, it's about making sure people have what they need to live their lives. It's about student loans, it's about all of these things that you care about, it's about who you elect to make those decisions for you. So it's really important to learn about those candidates, and then vote," Downers Grove LWV Co-President Hilary Denk said. 
In order to increase participation in democracy and widen the voting platform for younger generations, former Illinois Governor Pat Quinn signed legislation in 2013, allowing 17-year-olds the ability to vote in primary elections if they are 18 years old by the general election date. 
"Voting as a young person allows us to have a say in our government and how things play out. I think it's important that everyone registers to vote, so by organizing the drive during lunch periods it was easy for everyone to do it," senior Annika Isacson said.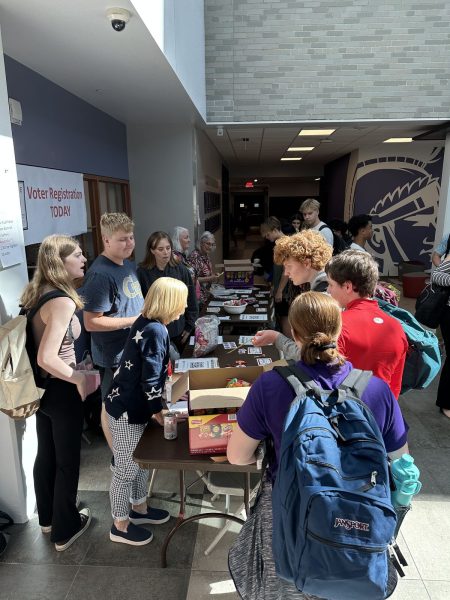 18 to 24-year-olds are the lowest voter margin in governmental elections. One of the goals of the LWV and DGN Government Club is to raise the percentage, and get more young people voting.
"We like to complain that it seems like politicians are listening to older generations. Well it's very simple, the older generations vote at higher rates than younger people," Lichtenberg said. "Politicians are going to go where the fish are. Right now there's more fish swimming in the older generations. So, the reality is that young people are going to have to step up and make their voices so significant that politicians cannot afford to ignore them. These policies are going to impact younger generations longer, make a huge difference in their lives, so it's really important to get involved now and realize that what happens now is meaningful."