Senior Ryan Eddington came in first place at the Eddington Invitational Sep. 16. Named after his grandfather, the race is dedicated to the late Larry Eddington, former cross country, track, and basketball coach at Kaneland High School.
It's evident that talent and passion for the sport runs in the Eddington family, so when Kaneland's cross country coach Chad Clarey welcomed the DGN team to be a part of the invite, DGN cross country coach John Sipple was grateful for the opportunity. 
"Ryan's dad Mark ran in the race as well, because he attended Kaneland. The Kaneland coach invited us to the meet when Ryan got to high school, but it was COVID-19  freshman year, so we've been going his sophomore year, junior, and now senior year," Sipple said.
As a senior, Ryan Eddington knew this year was his last chance to compete in the invitational, let alone to win first place. 
"I put the idea of winning in my head the week before the race, but also knew that it wouldn't be the only thing that defined how special the day was for both me and my family," Ryan Eddington said.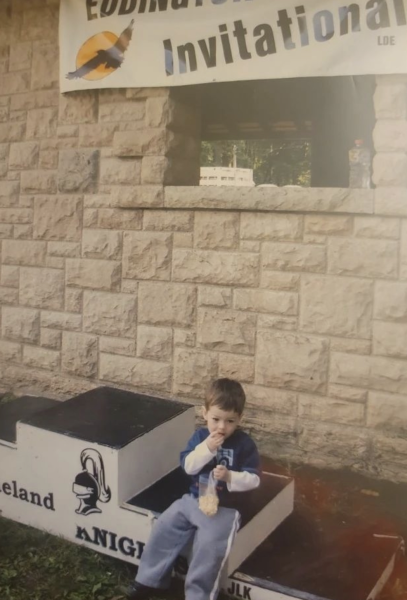 The DGN boys' varsity team achieved first place overall, with senior Isaac Moss and sophomore Will Surratt in sixth and seventh place, respectively. Currently ranked number one in the state, the boys' as well as girls' cross country team holds this title for the first time ever. Ryan's sister, sophomore Lily Eddington is currently the top girls' varsity runner for DGN. 
"When I was younger my family would go to watch the race every year and now the boy's team runs at the meet," Lily Eddington said. "The girls' team doesn't compete at this invitational, but it is a very meaningful race because Ryan is now able to compete and honor our grandpa."
Securing a time of 14:48.9, Ryan Eddington was able to take the lead during the final stretch, battling the 2nd and 3rd place winners from Kaneland High School and Benet Academy. 
"He put his nose up front and stuck to the race plan pretty well. He took his time in the first 800 meters or so and then it was between him and two other guys," Sipple said. "He broke one of the guys off and kept pushing and was able to beat the Kaneland guy as well." 
After his win, Ryan Eddington met Coach Clarey, who took over Kaneland's program after Larry Eddington's passing.
"I was able to meet the person who took over the program and kept it going after my grandpa died, which was a full circle moment for me," Ryan Eddington said. "It meant a lot for my dad and grandma to be able to watch me cross that finish line first."