Leaning out of bus windows, proudly boasting their medals while waving to the crowd of supporters lined up on Main Street, the boys' and girls' varsity cross country teams celebrated their respective first and second place finishes at the IHSA 3A State competition Nov. 4 with a homecoming parade upon their arrival.
"It is really rare to have two programs in that position and it was pretty special to be able to experience what that was like, sharing that Saturday with the girls' program and their coaches as well," boys' assistant cross country coach Andrew Adelmann said.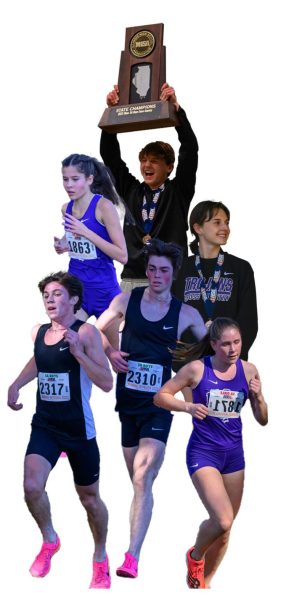 "They battled through a lot and ran a hell of a race to finish second. It really gave our guys a nice boost heading into our race."
With four girls placing in the top 25 spots as all-state runners, the girls' varsity cross country team collectively made a huge kick to make passes in the final 800-meter stretch, resulting in their second place finish.
"Coach Sipple had offered for us to be a part of the parade back into town. We didn't want to steal the boys' limelight, they got it because they champed, but we got the OK that no one was bothered by it, so we came along," senior Sarah Paul said.
Following the boys' bus, the girls' team rode the high of their incredible State finish.
"The boys' team was really welcoming," 14th place finisher junior Alayna Todnem said. "The actual parade was very fun, especially hanging out the window of the bus while going down Main Street to see everyone gathered in support. It felt like a small town experience, very community strong."
Paul placed 13th overall, achieving all-state honors and a personal record. Paul expressed that the race was her hardest one yet, however, she felt in control and had an overall great racing experience.
"I crossed the finish line and had almost no energy. I had no idea what my time was or where I finished, I just knew that I had tried really hard," Paul said. "Then Coach Ritter, the former DGN cross country coach, gave me a big hug and told me we got second place. It was a very emotional moment. I started crying."
Sophomore Philip Cupial shared a similar sentiment. With a time of 14:30:56, Cupial came in 7th place overall and was the first DGN boy to cross the finish line, establishing his spot as a key runner in securing the win.
"I didn't really react a whole bunch after the race because I was just so tired. I was more excited about what we did as a team and what we had just accomplished. On the bus ride home, I started to really think about what I had done, and I was just so proud of myself," Cupial said.
The boys' team has held the number one ranking in Illinois for the duration of the current season. Adelmann expressed assurance in the program and the strategy of the coaching staff.
"I believe there is a huge tendency by coaches in any sport, especially at the high school level, to 'over coach' their teams and try to keep control at all times. When in reality, the goal is to make them less dependent or reliant on you," Adelmann said. "Our guys knew what to do and when to do it, and we trusted them to do so, so by that measure, our job was done."
Performing well on all levels, the cross country program shows depth through all age groups.
"
"We got it done on the state and regional level, so now it's time to show some West Coast teams what's up."
— Ryan Eddington
"I think it's important to emphasize that this level of dedication is present all the way through our roster. All our runners, whatever level they competed at this year, were inspiring to coach. I feel very fortunate to be a part of the program," boys' cross country assistant coach Alexa Harris said.
Despite injuries removing several girls from the typical starting lineup, the team defied odds and gave it their all to achieve an impressive feat.
"Our season started extremely well, and then in one meet, two of our top runners got injured," girls' head cross country coach Tim McDonald said.
"Thankfully this is a deep team. All of the sudden, some girls who were on the edge of the top seven had to step up, and that's exactly what they did."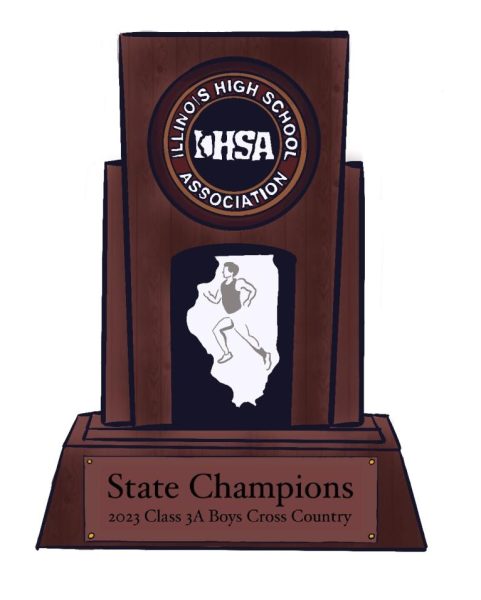 Sophomore Lily Eddington finished 10th overall, with a time of 17:13:3, and was the first DGN girl to cross the finish line.
"Pre-race nervous energy and kn
owing that it would come down to numbers were some of the biggest challenges of the day, but we were all excited and were ready to prove the other teams wrong," Lily Eddington said.
Through daily practices, team bonding time, and one of the longest sports seasons at DGN, being a part of the cross country team is a lifestyle that provides athletes with a support system resembling family.
"Our team mantra this year is 'No Destination.' This is basically a reminder to not focus on any one goal or outcome," boys' assistant cross country coach Eric Buhot said. "Eventually no matter the result, life goes on and the work to improve yourself and others continues. It's another way of saying to love the process because the process is where we live our lives. Destinations are places we visit rarely and fleetingly and then we move on."
Both teams continue to emulate this theme. At the Nike Cross Regional meet Nov. 12, the boys' team won 1st place and the girls' placed 2nd. The state and NXR success serves as a confidence booster, affirming the fact that they are capable of continuing to accomplish their goals. Since they scored within the top two places at NXR, both teams met the standard to compete at Nike Cross Nationals Dec. 2 in Portland, Oregon.
"It's a really exciting thing because both DGN teams get to be involved this year," Todnem said. "NXN provides all of us runners with free uniforms, shoes, flights, hotels, and other swag, which is an added bonus."
The most recognized and widespread race in high school cross country, NXN serves as a major opportunity for high school runners to meet and compete with teams from all across the nation.
"We got it done on the state and regional level, so now it's time to show some West Coast teams what's up," 13th place State finisher senior Ryan Eddington said.