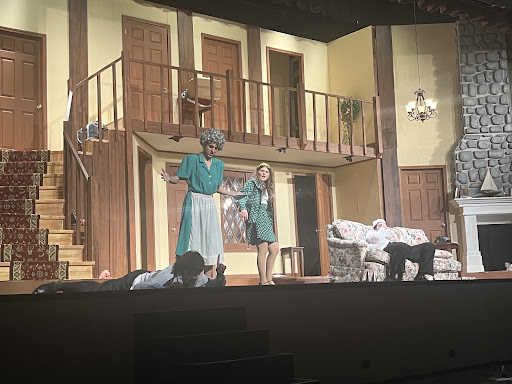 I sigh as I walk to my seat in the Clarence Johnson Auditorium. It's hot. I'm here to support some friends – not get heat stroke. I take a deep breath and wipe the sweat pooling on my face to prepare myself for what's to come. While I had not yet known the premise of the show, all I heard from the actors I knew involved was to prepare myself for the mayhem I was about to witness. I wish I knew how much of an understatement that was.
The second I even processed the show had started, I could barely hear the actors over the roars of laughter booming across the auditorium. My evening consisted of 2 hours of stomach cramps and teary eyes from constant cackling. I was quickly taken away from the 110 degree weather or back-to-school troubles in my head. The actors came on stage with such energy and conviction it was impossible not to get into the show. In all my time at North, I can't remember ever seeing a Thursday night production so alive. 
Noises Off, written by Micheal Frayn, is a comedic satire on the world of acting. It's written in 3 parts that all show a part of production. Act 1 introduces a ragtag cast in their final dress rehearsals, unable to even get through one take of their show without catastrophe. In Act 2, the set flips around to an actor's backstage perspective. The impeccable double-sided set gave an amazingly hilarious insight to what might happen behind the scenes we'd never know. Finally in Act 3, the set flips once again where you get to watch the chaos of their final show from the audience perspective. 
Ironically enough, in a show about a production going wrong, there were a few mishaps that occurred that actually seemed intentional because of the quick wit and talent of the cast and crew. Whether it was the stage's couch breaking or simply the atrocious heat in the building that warped the wooden set, those on and off stage pushed through without fail for a seamless first show. It all goes to show the sheer talent and commitment that those involved in our school's varsity play have and can bring a new level of appreciation and amazement to the stage. 
Overall, I was extremely impressed with the show. If you weren't able to catch the show, I'd most definitely recommend catching the next!