Class of 2023 sends off Division I athletic commits
As decision-day posts and commitment photos filter through DGN's online community, ten DGN athletes reveal their commitment to Division I universities. These athletes share their triumphs, struggles, and reflections in candid interviews with the Omega. 
The Division I sports represented includes lacrosse, baseball, football, track and field, cross country, and gymnastics. Gymnast Anthony Nicholas and University of Minnesota commit shares his successes.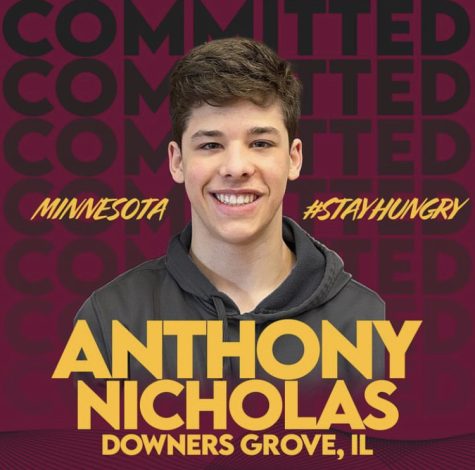 "I'm proud of attending USA Gymnastics Men's National Championships for 3 consecutive years including this year and being a 4-year Academic All-American. What I am looking forward to most in the future is helping the Minnesota men's gymnastics team win the national championship," Nicholas said. 
Ethan Thulin, football commit to Dayton University, credits his success to prior players in the DGN community. 
"The mark I've left on the younger generation is the best thing I've done at DGN. Whether it's playing well on Friday nights or saying thanks to the elementary and middle school kids for coming after the games, those little things inspired me a lot when I was that young. I believe it encourages them to work harder which will make us a more successful community in general," Thulin said.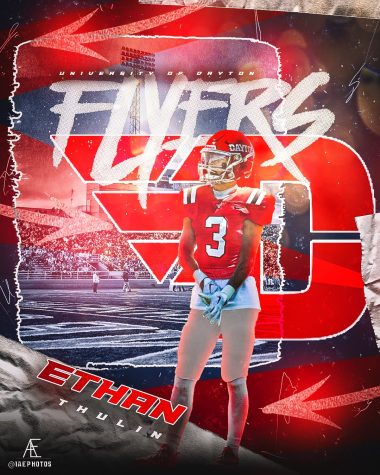 Aubrey Woodring is a Winthrop University commit and current varsity lacrosse player at DGN. She started playing while in elementary school and thanks her family for their constant support. 
"I want to definitely share my gratitude to my parents for always pushing me to be my best but my brothers have always been by my side. I've grown up in a very competitive atmosphere especially when it comes to athletics. I spent many years cheering my brothers on at the hockey rink and they do the same for me on the field. I can always count on them to show up and support me no matter if it's a big or small game," Woodring said. 
While Woodring found lacrosse early in life, Creighton University commit Claire Pyne didn't pursue a collegiate cross-country career until much later. 
"By the end of my sophomore year, I knew how to set big goals and make training plans to reach them. I think my training intensified a lot after this, but there was also a lot more pressure that came with that. I am still working on keeping a positive mindset when things don't go well in my sport, but I try to remind myself that my progress isn't linear and setbacks are normal," Pyne said. 
Also a cross country runner, Topher Ferris will compete for West Point Military Academy and pursue at least a five-year career in the United States military.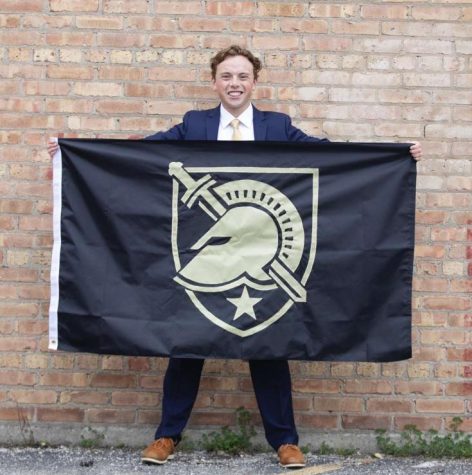 "I don't necessarily have any fears right now for the future. Step into the unknown and make it known. I would say my mindset has sharpened over my career and is still continuing to do so. When things get difficult, I remember to trust God's plan and remind myself that growth will never feel easy. I also try to tell myself to thrive through a tough workout, not survive," Ferris said. 
Ean Czech is a future UT Austin baseball player who attributes much of his success to his dad. Czech's outlook on failure has changed throughout his baseball career, which he shared in his Omega interview. 
"At the beginning of my career, I was afraid of failure and would beat myself up when it happened because I had such high expectations for myself. But as I went through a long year of failure, I came to realize that failure is a learning tool that I can grow from. I look at it as an opportunity to get better instead of dwelling on it. Without failure, I don't think I would be where I am today. How are you supposed to improve if you don't face challenges," Czech said.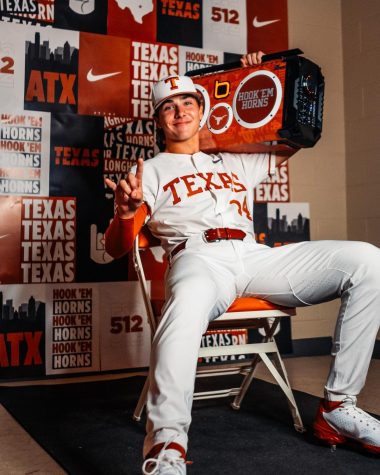 Jackson Irby is an IHSA State Track & Field medalist and future UIC athlete. He describes his training schedule as rigorous, but rewarding.
"My commitment to track and field has caused me to miss a lot of weekend hangouts. This year I'll be missing prom because we have a track meet, which is really unfortunate. Looking back, though, I won't regret missing prom because if I do well at the meet, I'll get to go to state again. That's a lot more rewarding, and a lot of people are relying on me to do well in life. I'm also a really anxious person and working out helps a lot. During my races and right after, I feel the best I ever feel," Irby said. 
Tony Konopiots committed to West Virginia for baseball and thanks his dad for being his "biggest supporter."
"My biggest supporter is my dad. He had a really rough life growing up but he always manages to stay happy and positive no matter the circumstances. He's been the best coach I could ask for and my inspiration to work super hard.  There have been many times in the past when my mindset has been negative. I've even thought about quitting a few times when I would struggle so badly. Over the years I've learned to speak positively about myself and trust the work I put in," Konopiots said. 
George Wolkow committed to South Carolina after reclassifying as a 2023 graduate. An All-American baseball player, Wolkow recently played an MLB high school game at Dodger Stadium. While he's "super excited for either the draft or college," Wolkow also reflects on his childhood. 
"I always think back to when I was a kid and had big dreams of playing in the MLB. I ask myself, what would my 10-year-old self be thinking of me right now? I think about my family a lot, too. I want to succeed the most I can in life and hopefully be able to provide for my parents too. Look at your roots; they're important."