Varsity cheer jumped to state: first time in 18 years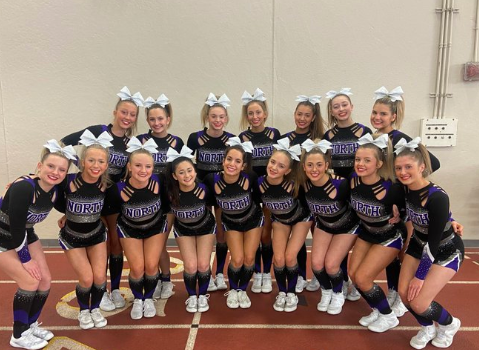 Anxiously waiting, the DGN varsity cheerleaders sat anticipating the announcement of the top five winning teams.This was not a regular competition, it was the sectionals meet at Bradley-Bourbonnais. The girls jumped up together in excitement when they heard that they placed fifth in the all-girls division which allowed them to advance to state.
State took place on Feb. 3-4.  Everyone competed on Friday and then the top 10 teams in each division advanced to Day two. The cheerleaders are going to the in large state, which gets based on the population of the highschool. 
The varsity cheerleading has not gone to state since 2021, which was not in person due to COVID-19. 
"However, this is the first time we have been to State in the Large, all-girls division since the 2004-2005 school year.  I was coaching back then also, but that was before the IHSA even recognized cheer as a sport," cheerleading coach Allyson Passarelli said. 
The varsity cheer team goes through two seasons– sports season and competition season. Sports season is cheering on the DGN athletic teams while competition season is when cheer squads from different schools create routines that judges score. 
"Each team is allowed to attend up to six Invitationals from late November to late January.  While you want to do as well as you can at those competitions, the results and placements don't really matter.  The Sectional competition is the only one that can advance you to State.  Not all teams go to six Invitationals, but we choose to so we can keep getting feedback from judges before Sectionals," Passarelli said.
The cheer team focused on execution of their skills this year and improving their motion technique. The team drilled at all the little things that could count on the score sheet. They have been practicing as a team since June and the team never stopped motivating each other.
"Being a part of the cheer team is such an amazing experience as you learn to push yourself to be better and build trust with your teammates. I love how the team has helped me grow not just as a cheerleader but as a person," junior Mia Trabadela said.
This team had a strong drive for success and focused on their goal of making state. Each person brought a different strength to the team that led them to their success. Some of the girls cheer competitively out of school, this cheer league is called All-Star. 
"All-Star is where I learned how to do a lot of the skills that I have now. It also taught me self discipline. Highschool cheer is where I cleaned and perfected my skills and got to cheer with my friends," senior Courtney Mullenix. 
The team did not advance to the second day of state but placed 18 out of 30 teams. The girls fought hard throughout the season and even came in second at conference this year. 
 "I love all my team so much and this season was really fun. They made me feel so welcomed and made the transition from middle school to high school so much easier," freshman Sawyer Hansen.