Stands packed in pink for Lady Trojans fundraiser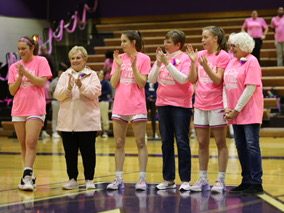 The Lady Trojans hosted their first Pink Out basketball game Jan. 27 against OPRF. The program invited the community to help raise funds for cancer research through shirt sales and donations. 
"Our goal is to raise money, but also awareness for the American Cancer Society (ACS). The girls' teams will be in their pink jerseys and we will sell pink shirts to wear to the Pink Out," freshman coach Megan Gilbert said. 
The pink shirts were initially sold to family members of the girls' basketball team, and later offered to students and staff at DGN. All proceeds made through shirt sales and donations were given to the ACS. Along with a donation box, there were recognition cards for fans available at the gym entrance.
"There will be honorary captains for the night that are announced and brought out with the player they are affiliated with. Then, in the stands, everyone will hold up the name cards of people in their lives impacted by cancer," Gilbert said. 
At the game players, along with many audience members, recognized family and friends who have been impacted by cancer. Junior Lilly Boor recognized her grandmother, Carol Boor. 
"I found it to be a great and proud moment I was able to share with my grandma. It is incredible that the other players and I were able to recognize those amazing people in our lives who have or are battling cancer," Lilly Boor said. 
The honorary recognitions touched crowd members and people impacted by cancer. 
"The team's continued support as young adults can have a positive impact on the continued advancement in the development of new treatments and cures for the disease. I believe that the girl's commitment to this project is commendable and should continue," Carol Boor said. 
Another honorary captain at the Pink Out game was teacher Karen Spahr-Thomas who was diagnosed with cancer Aug. 2019. Spahr-Thomas supports the program's commitment to raising money and awareness. 
"The DGN girls' basketball program should continue with the annual Pink Out game. Coaches vs. Cancer is a nationwide initiative and I think having the DGN program be a part of this wonderful recognition is a great way to bring the community together," Spahr-Thomas said. 
Although this year is the first time the girls' basketball program has hosted a Pink Out fundraiser game, head coach Stephen Bolt hopes it will become an annual tradition. 
"Our girls' basketball team loves to do things that are bigger than themselves and give back to the community. I think this would be something we would do every year and hopefully it grows in popularity and we can raise more money for all people impacted by cancer," Bolt said.