Boys' swim: diving into the season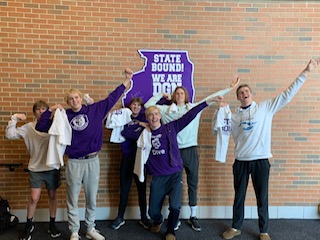 Boys' swim season kicks off with their first meet against Lyons Township Dec. 9. According to senior swimmer Harry Platt the team has promising potential this year. 
"I believe that our team is in the right position to reach new heights in terms of team success. 
Last year we had multiple relays reach state, and most of the swimmers on the state relays are returning. I think it's very likely we get back to state," Platt said. 
In order to achieve their goals of returning to state, head coach Kelly Logterman believes the team needs to focus on the small things. 
"We are hoping to be injury free, have some time drops from last year, and place higher at conference. I think we have to spend a lot of time focusing on the small details of our races that come together for the big picture," Logterman said. 
Since last season, the team lost two sectional team members, one being state qualifying senior Charlie Platt who placed top ten in the IHSA state meet in the 100 Yard Freestyle. Even with the absence of last year's seniors, the team has other talented members to guide them through a successful season. 
"I think having more senior swimmers than we did last year allows us to practice with more urgency. This is our team's best shot to do some real winning," Platt said. 
In addition to their strong senior class, junior Ethan Weingust believes that team commitment is the key to their success. 
"It's very important to stay on top of practice; make sure that you go to all practices you're able to and work as hard as you can at each one," Weingust said. "I think that we will have some great team camaraderie this year." 
This season, the team dynamic was slightly altered with the addition of two new members: Head Coach Kelly Logterman and Assistant Coach Lissa Stanley.
"I'm looking forward to the possibilities of this team. We're on the smaller side, but there's a lot of talent. I think we'll see a lot of fast swims and have a lot of fun this season," Logterman said. 
With two coaching positions being newly filled, the team is hoping that the new coaching staff will bring positive changes to the table.
"While it's always sad to say goodbye to a coach that you really loved working with, working with a new coach is always exciting and I'm positive that she'll do great things for the team," Weingust said. 
The team members are anticipating a successful season with help from their new coaches and new roster. 
"I'm most excited to see if Coach Kelly makes any changes to the team, and I'm also excited to see if we can keep up last year's successes and break some more records," senior Andy Cameron said.