Girls' bowling anticipates a striking season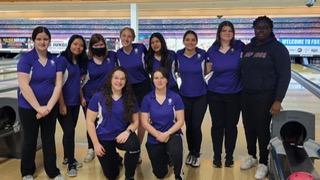 Girls' Bowling kicked off their season with a win against Naperville Central Nov. 29. According to senior Taylor Sisco, the team is in stride for a successful season where they will use experience to their advantage. 
"This season, I believe we have a very strong varsity team. We had no seniors last year, so we didn't lose anyone, which was helpful," Sisco said. 
Last season, the team went 2-5 in conference matches, 3-5 overall and had three bowlers qualify for sectionals as individuals. This year, the team is expected to surpass these achievements. 
"I have a lot of positive expectations for this season. We did not have any seniors last year, so all of my top bowlers are returning," head coach Scott Gollan said. "I'd like to get 2-3 all-conference bowlers, qualify for sectionals, and maybe state, as a team. If the team doesn't make it, get 1 or 2 girls to maybe qualify for state as individuals."
In order to achieve this goal, Sisco believes that the team's increased understanding of the game will push the team forward. 
"I think all of our varsity squad is knowledgeable on lane conditions and how to adjust when the lanes break down and the oil dissipates. This topic was pretty foreign to us in the past, but we are all pretty good at noticing how we need to move to keep striking," Sisco said. 
In addition to understanding bowling techniques, the team's access to proper equipment has the potential to lead them to success.
"After our fundraiser last year, everyone uses their own balls which are way better than house balls. The grip and oil on the ball is way better, so I can throw more curved shots and hit the pocket. I have already seen improvements in practice, which is promising," senior Caitlin Bjarnson said. 
According to Bjarnson, the team is smaller than it has been in previous years. The varsity squad is anchored by 5 seniors, 1 junior and 1 sophomore. 
"Because the team is smaller, each individual player has more time with the coaches to develop technique, so we're excited about our chances this season," Bjarnson said. 
Aside from the technical side of bowling, the team has been able to develop a positive dynamic.
"The strongest aspect of the team this year is the overall bond we all have and the effort we put in to make each other better," senior Sarisa Chulanon said. "I am excited to get to spend time with the team and to be able to grow together."
Although the team hasn't had much success in their conference the past few seasons, according to senior Jessica Gruszka, this year will be different. 
"I'm very hopeful that we will finally come out at the top after being one of the lower teams in the conference after four years of being part of the team," Gruszka said.
With new contributors, access to better equipment, and a new team dynamic, the girls bowling team is hoping to excel this season. 
"We haven't had a great season in a while, however, I truly think the team is as strong as it's ever been. The comradery and energetic atmosphere at matches is something truly unparalleled to anything I've been a part of before," Sisco said.