Winter One Acts: small skits, big performances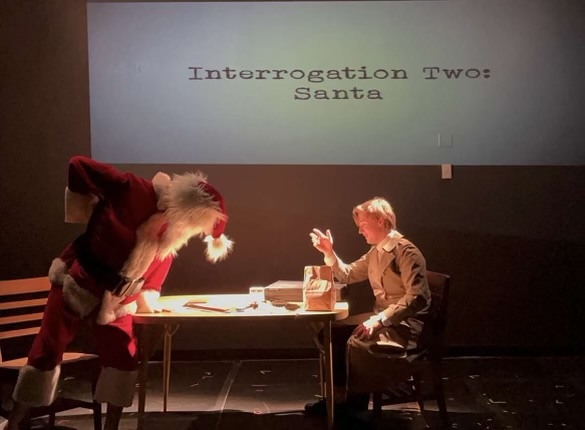 The last time I attended a production of the annual DGN Winter One Acts was back in 2018. I was in the 8th grade and remember being amazed by the high-quality production. Going back to see the One Acts as a senior, I felt the same way I did five years ago; amazed but slightly confused. 
This year's "menu" of Winter One Acts consisted of seven short plays, each 15 minutes with a 10-minute intermission after the first four. 
What makes the One Acts special is that almost every play is written by a student. Out of the seven, five plays were student written and six were student-directed. Playwrights included seniors Ash Chavez, Leah Costello, Natasha Fugate, Morgan Lally, Vee Barlin, and Rebecca Heldson. Knowing that what I was watching was created by my peers made the experience all the more enjoyable. From complex lines to the blocking of multiple actors on stage at once, it was evident that a lot of work went into each production. 
It would be difficult to sum up the One Acts due to how strikingly different they all were. The individual productions ranged from murder mysteries to heartwrenching tales of growing up, to a story of a school's alien invasion. Although I was thoroughly entertained, the quick pace made it difficult to grasp the plot of some of the plays. 
Walking out of the black box theatre, my friends and I discussed everything that we had just watched. Out of the seven, there were two that we just could not stop raving about: Murder on 34th Street and Elevator Squad. 
The entire production began with Chavez's play, Murder on 34th Street. This story followed the murder of Joni (Anna Tokash) and the consequent interrogations of fellow department store employees (Matthew Sirota, Tana Purcell, and Cesar Rivero Figueroa)  to find out who killed her. I don't think I stopped laughing once. Sirota's monologue to reveal that he was the killer had me doubled over in laughter. Oh, and he was dressed in a Santa costume which only added to the hilarity. 
Elevator Squad was written and directed by senior Vee Barlin. This play was about a group of disabled high school students who take the elevator to get to class each day. Throughout the play, they grow from a group of strangers into a tight knit clan of friends.  I loved the simplicity of this story. The lines were easy to follow but still meaningful. I was left feeling uplifted by this story of friendship and helping others. 
Overall the Winter One Acts were a huge success and I am excited to see what comes next in the world of DGN theatre.