Girls basketball team preparing for new season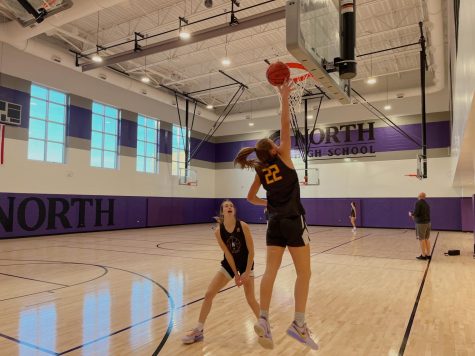 The Varsity Girls Basketball team's season is starting Nov. 7, and the coaches and team have been preparing to come out strong right from the start. The team has almost an entirely new starting lineup for this year and will have to make changes from last year, but they're ready to take on this challenge for the 2022-2023 season.
Six seniors, who were big contributors in playing time on the court, graduated last year. As a result, many roster spots were opened up for underclassmen. What might seem like a setback to some, Head Coach Stephen Bolt sees as a new asset to the team.
"We graduated a lot of seniors last year, but I think it's going to play out great. I'm sure a lot of teams are thinking we're going to be down because we lost so many last year, but I think it's going to be the opposite and we're going to be just as good as we were," Bolt said. "Even though we don't have a ton of numbers, I think we are just solid across the board. We have a bunch of kids who are bought into what we do, who is going to defend, be tough, and take good shots."
With new players, brings new skills to the team. This year, senior Violet Mitchell believes the team's ability to shoot will bring a new advantage to the court.
"We had a really good team last year but I think this season, we're going to be better than last year because we have all five on the court who can shoot, who can pass, who have great court vision, and who are all around good teammates," Mitchell said. "However I feel like last season we had two girls who were the main scorers. We now have great shooters and really good drivers, so I think we're just more aggressive and we can all contribute to scoring." 
The team went from having six seniors to now only two. This made for a big shift in leadership responsibilities. Senior Maggie Fleming is ready to take on the task of being one of the team captains.
"My goal as one of the team captains is to be a great teammate, a great scorer, and a great facilitator. I hope as a leader I can challenge and support all of my teammates in order to make us better, and I just want our team to grow together allowing us to have a successful season," Fleming said.
Two freshmen were pulled up to varsity this year and are excited for the opportunity to learn from the older varsity players.
"As a freshman on the team, I expect to be pushed hard by my coaches and teammates so that I can continue to grow as a varsity-level player," Freshman Finley Werner. "Specifically, I hope to be pushed on and improve my man-on-man defense. This defense is a big part of DGN basketball and I want to start a strong foundation with it freshman year."
Along with new players, the team has gained a new assistant coach from Glenbard North. Assistant Coach Morgan Eufrasio is appreciative of the hard work of the players and is excited to be bringing a new coaching perspective to the team.
"This team has the "it" factor. It's a bit hard to explain but they are all extremely coachable, they work hard all the time, they care about one another, and they have fun. It's a great group to coach, and I'm excited for what this year has in store for us," Eufrasio said. "My expectations are to be one of the best teams in the state."