Students share opinions on potential locker room inequalities
Overview
DGN is home to a variety of sports teams and the roughly 1,401 athletes that compose the sum of every roster. Recently, the athletic department has received both complaints of gender discrimination regarding locker room accessibility.
Numbers of Athletes
Out of the 1,401 total athletes, approximately 653 of them compose male rosters and the other 748 compose female rosters, indicating similarly sized girls and boys athletic programs at DGN. When it comes to locker rooms, however, female teams are allowed access to an athletic locker room and a White Gym locker room while boys teams not only have these facilities, but also an athletic changing room located in the underground track.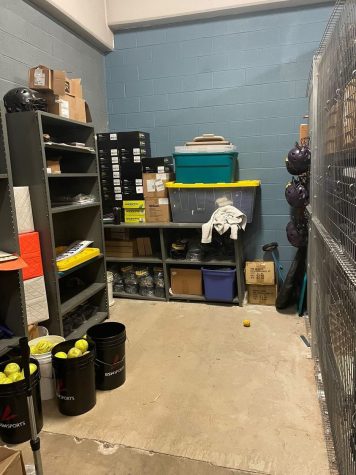 Female athletes complain that due to potential locker room inequalities, they must change in school bathrooms or closets. One student, who prefers to remain anonymous, provided a picture of where she and her softball teammates change before practice: a small storage closet. Senior Bridget Callaghan, a varsity softball player, echoed this discontent. 
"For female athletes, we only have the athletic locker room to use and the gym locker room, if they're even open. The male athletes, on the other hand, have the same plus the extra locker room by the weight room which is very decently sized," Callaghan said. 
Athletic Poll Results
To further investigate the complaints, Omega conducted a school-wide poll that was emailed to students April 13. It asked student-athletes a variety of questions relating to locker room usage. The results revealed that of the 194 responses, 29% of male athletes responded that they've ever changed in a space separate from the provided locker rooms. Of the female athletes who responded, however, 79.1% have changed in a space that is not a locker room, 67% of them citing that this occurs every day.
These statistics, while not holistically representative of the DGN athletic population, may indicate that locker room inequalities exist. Female athlete and junior Gabrielle Chen, who is involved in badminton, cross country, and track and field, points out that verifying the source of these inequalities is difficult. 
"I had noticed the extra locker room for the men's sports, but I think that's just because football is so huge and predominantly male. I honestly don't think this is problematic, because it's more of a facility for a certain sport than a mens' locker room," Chen said.
Junior football and baseball player Nick Gregario agrees with Chen's assertion. While he recognizes that his sports teams have access to another locker room, he doesn't believe that the existence of this facility indicates inequality.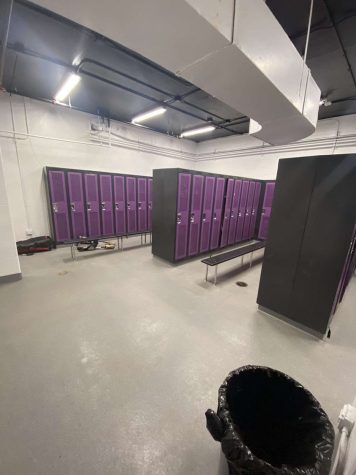 "As of now, I don't see a problem with the locker room situation because I have never seen how the girls' locker rooms work. Personally, I change in the underground track locker room. The place is pretty narrow so sometimes it gets really crowded and full of people," Gregorio said. 
Locker-Rooms
In an October interview with editor-in-chief Kate Gross, athletic director Denise Kavanaugh stated that while the football team has access to another locker room located in the underground track, this access is not given to them because they're male, but because of numbers, equipment, and supervision. 
However, it is important to point out that per season, the number of female athletes is never significantly below that of male teams. In fact, during the IHSA winter season, while the number of male athletes who use locker rooms is 76, the number of female athletes who participate in winter sports reaches 97. 
Another notable assertion regarding the underground track locker room is that, while not technically inaccessible to female athletes, it has been more often used by various male teams since its construction and has more urinals than toilets. 
Kelly Zuerner, a DGN vice president and Title IX complaint manager, refused to comment when asked about athletic locker rooms. The associate superintendent for student learning, Gina Ziccardi, stated that she, too, could not provide specific details. However, she offered resources regarding the school's response protocols to alleged discrimination, which are found on the DGN website. 
Ryan Powers, a sophomore on DGN's male baseball and cross country teams, admits that he's always changed in a designated locker room for practice. He also stated that the same is true for his teammates; if they were to change somewhere else, it would be based on personal preference, not necessity. He also addressed the "extra" locker room he and his teammates use. 
"Before baseball practice, I changed in the locker rooms located in the underground track, but before cross country practice, I would normally just change in the PE locker rooms. The locker room in the underground track is shared by all three baseball teams—Freshman, JV, and Varsity—which is 70 plus people. With room also needed for baseball equipment, it is not as spacious as you may think," Powers said.
Callaghan pointed out that, for one, softball players also carry large equipment bags. She also argues that, even if the baseball team's locker room (underground track) isn't perfect, it's better than no locker room. 
"Before I dropped my eighth-period class, I changed in the athletic locker rooms. It was hard to find a spot to change and I would find myself maneuvering between tons of girls. Now, I change in the bathroom near the vending machines. I use one of the handicap stalls so I can have some more room. I don't like changing after school because it makes me late to practice," Callaghan said.
"
Before I dropped my eighth-period class, I changed in the athletic locker rooms. It was hard to find a spot to change and I would find myself maneuvering between tons of girls. Now, I change in the bathroom near the vending machines."
— Callaghan
These complaints were echoed by Chen, who mentioned that during the cross country and track seasons, while her team uses the athletic locker room, the lights never turn on past the first row of lockers. She also mentioned that "when tennis and the Athenas come in, that's when the locker room gets very crowded."
Potential Inequalities 
Junior Maggie Fleming, a member of the girls' varsity basketball team, expressed that while her team technically has access to a White Gym changing space, the location makes it "inefficient" to access. 
"We didn't have access to the [White Gym locker rooms] for a majority of the season and when we did, we changed in the bathroom every day because we weren't able to change in the White Gym; if the coaches opened [the locker room], the boys were having practice in the White Gym, so our coach didn't want us to walk through their practice," Fleming said.
Powers, who said he would "advocate for [equal locker rooms] if needed," offered a counterpoint by mentioning that males are also hurt by unfair gender rules in DGN sports. 
"A few examples of gender discrimination at North that I can think of is the availability of different programs. For example, there is a female badminton and bowling team, but neither sport is offered to males," Powers said.
While it's accurate that certain sports are offered to females that aren't offered to males, Title IX, which protects against discrimination on the basis of sex and gender in all institutions that receive federal funding, is based on the number of athletes, not the number of sports teams within a school.
The Omega's investigation into potential locker room inequality at DGN cannot confirm or deny the presence of a Title IX violation. However, equality between female and male sports has long been an issue throughout the world, one that every community can help solve. 
"I feel like some female athletes are hesitant to speak out against certain inequalities because they fear that they're going to be seen as 'dramatic' or 'unappreciative.' I just want future female athletes to understand that their voices are their most powerful tools and that they shouldn't settle for things that should be better," Callaghan said.