Jade Toledano: 2021-22 student BOE representative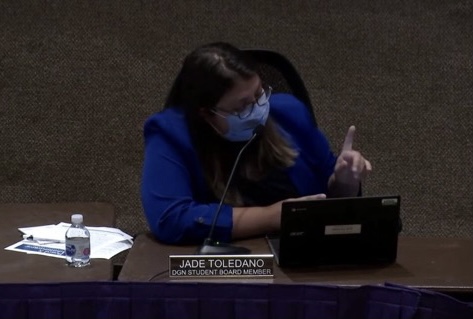 D99 Board of Education meetings are held on the third Monday of each month and can sometimes be hours long, deciding on important topics going on throughout the school. Each year, the board picks two students: one from DGN and one from DGS to represent the student perspective. This year's 2021-2022 role is filled by senior Jade Toledano. 
To get the chance to become a representative follows a big process. It took about a month and a half to see if she was appointed to the position or not. 
"The application, the process, and the interviews with Dr. DeMent and Mr. Mirandola were scary but it was so much fun. At the end when I got selected, it was such a great moment to remember and I was so excited I was the person who was chosen to do this," Toledano said. 
She now works with Downers Grove South's representative Scarlett O'Hara to go to all the meetings and discuss what is going on in the schools. 
"Scarlett and I developed a Google Site website where we are going to put what happened at the meeting. We are going to blast it out every Tuesday in the morning after the meeting so people can get it quick," Toledano said. 
Her job at the meeting, however, goes beyond taking notes. 
"When at a meeting, I'll go to my own seat with the Board, and I take notes of everything. Sometimes I have to give the Student Perspective on what's been going on at DGN, so always being in communication with my classmates who are involved in other activities is super important," Toledano said.
They have conducted about four meetings so far. On their Google Site, they have posted what happened and have an "About us" page for people to read about what they are involved in.
Their efforts have not gone unnoticed. Principal Dr. DeMent appreciates the help of Toledano and O'Hara greatly. 
"One of the things that have been super impressive is that Jade and her counterpart at south, Scarlett, have been in great communication with each other. It provides for this really cool cohesiveness that schools are hearing the same message," DeMent said. 
With regards to the Google Site the student board representatives put together, DeMent thinks it was a smart idea. 
"[The website] has really awesome updates and I think that kids should really pay attention to and become aware of," DeMent said. "I love that she has been working really hard on communicating to the student body because we always try to include the student perspective but sometimes when we fall short we don't always have the opportunity to get everyone's opinion on it."
The biggest thing that Toledano wants to do in her role as representative is to make sure everyone feels welcome.
"My goal is to make sure that anyone can come to me if they need something, and that they have a peer that they know they can go to," Toledano said. "I want them to know that someone is going to listen and advocate for [them] during the board meetings."