Trojans edge out rival Mustangs in 7-0 win over Downers Grove South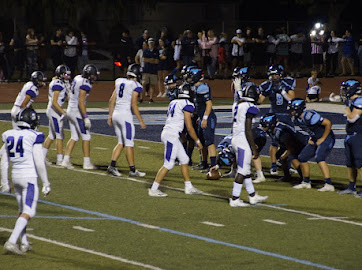 DGN Varsity football took on their crosstown rival Downers Grove South Friday night. The Trojans entered with an undefeated 2-0 record this season and a six-game winning streak vs DGS dating back to 2014. The Mustangs were still seeking not just their first win but also their first points, as they had been outscored by a total margin of 99-0 in their first two games this year. Coaches on both sidelines wore shirts commemorating Pete Lenos, a beloved coach and local police officer who passed away last April. Lenos played football at DGS while in high school and spent time coaching for both the Mustangs and Trojans.
DGN received the opening kickoff but struggled to move the chains as neither team was able to convert a first down until DGS with around 4:00 left. The first quarter ended in a scoreless tie. 
The race to score first continued well into the second quarter, with DGS coming very close as they marched down the field. The Mustangs found themselves on the five-yard line before DGN linebacker Thomas Williams ended their drive with a clutch interception. The Trojan offense rallied late in the half to put together an 80-yard drive that culminated in the first score of the game as quarterback Sam Reichert found Ethan Thulin wide open in the endzone with 10.5 seconds left. DGN entered the half up 7-0.
The second half was just as devoid of scoring as most of the first had been. At first the Trojans seemed to have maintained the momentum they left the half with; they reentered scoring territory thanks to a toe-drag catch by receiver Carter Ratcliff, but DGS came up with an interception in the endzone. Running back Noah Battle cut up the Mustang defense and found the endzone but the play was ultimately called back due to a holding penalty. Later in the fourth quarter, DGN attempted a field goal for some insurance points but the kick was wide left.  All of the Mustang's attempts fell through, and DGN won the defensive battle 7-0, earning their seventh straight win against DGS.
DGN is back at home next week as they'll play York for their first conference game of the year. The Dukes also boast an undefeated record so far, averaging 49 points per game along the way. York is currently ranked as the 46th best team in Illinois according to Maxpreps.com, still 16 spots higher than DGN although the Trojans' ranking has increased by over 62 since the beginning of the season.