Board approves new Black American Literature class for District 99
A Dec. 14 District 99 Board of Education meeting consisted of, among other things, a vote to approve the new Black American Literature course for the 2021-2022 school year.
Black American Literature will be a semester-long class that begins in fall 2021. For now, the class is only offered to seniors who have completed English III or AP Language. In order to complete senior year English, students need to complete reading and writing requirements. Black American Lit will be one of six total classes that fulfills the reading requirement, meaning that students who take it also need to take another semester-long course that fulfills the writing requirement. Eligible juniors can register for the class immediately.
According to DGN English Chairperson Christopher Bronke, who described the class in a presentation to the Board, "the focus of the class is to explore literature written about and by Black Americans and to examine text that focuses on the evolution of Black culture in America. To accomplish this, students will explore novels, speeches, texts, works of art, and music in order to understand the impact they have had on society and culture." 
Bronke then provided a further description of the class, but first wanted to recognize its creators.
"I want to make sure I give a shoutout to Britni Mitchell at North and Riley Love at South, the architects of this course," Bronke said.
Mitchell and Love are both English teachers at DGN and DGS, respectively. It was their collaboration that brought Black American Lit from an idea to reality. They got to know each other years ago after meeting at a district event, where they shared a mutual interest in the issues raised.
"[Ms. Mitchell] and I invited our former superintendent Mark McDonald to attend a courageous conversation about race, and we've been fast friends since then," Love said.  "In the past year or two, We've really been able to reconnect on this and found the perfect opportunity to move forward with this class." But the two had envisioned the class for much longer than a year.
"I mentioned it maybe five years ago, and I started drafting what it would look like," Mitchell said. "There were lots of big curriculum shifts, and I was like 'okay, it's not really a good time to take this on, I can't really focus on it, It wouldn't really fit with all the changes that are happening.'" 
After the events of the summer with Black Lives Matter and the fight for racial equality, Mitchell and Love felt it would be the perfect time to resume progress on the curriculum together
"She's someone I definitely trust individually and academically so very much," Mitchell said of Love. "We had a couple of pow-wows over the phone during the summer, just working in Google Docs. We just wanted to cover all of our bases and really make sure that if we were given the opportunity to teach this that all of D99 would be able to access it rather than it just being a DGN thing."
Mitchell was very ambitious with which content she wanted to cover, and with only half a semester to do it, they had a long list to narrow down. The current material includes "Barracoon" by Zora Neale Hurston, excerpts from "Citizen" by Claudia Rankine, a wide array of visuals ranging from Beyonce's "Black is King" and "Lemonade" to paintings, and excerpts of various speeches and other media.
Junior Quintin Mills is excited to take the class during his senior year and encourages others to do the same. 
"All students should consider taking Black Lit because it will help students have a better consciousness of history, culture, and society from the perspective of Black writers and thinkers. I imagine that students will probably feel apprehensive because race and politics [make] people tense, but what this class will give them is the chance to actually learn and discuss the Black experience which will build their empathy skills," Mills said. "Also, it's going to be a fun class – there's going to be music, artwork, poems, and movies!"
About the Contributor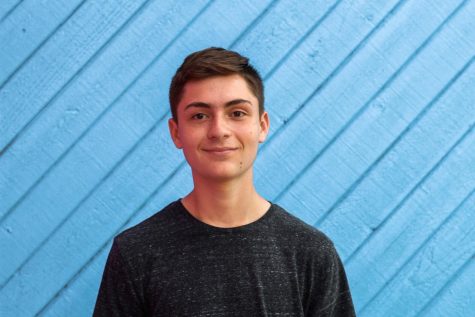 Anthony Marsicano, Opinion Editor
Junior Anthony Marsicano is excited to join the Omega staff as an Opinion Editor. In his spare time he enjoys following sports, politics and entertainment....