Day in the life of an NFL player: David Edwards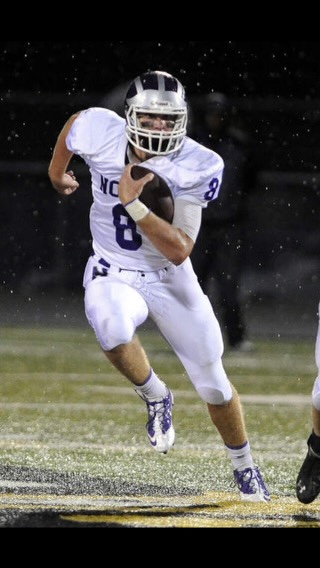 Former DGN quarterback David Edwards has been on a roller coaster ride of a football career since he graduated. After starring as the first-string quarterback at North, he went to the University of Wisconsin- Madison, where he gained nearly 80 pounds as he transitioned from a quarterback to an all-conference lineman in the Big 10. 
Nowadays, Edwards is the Right Tackle for the Los Angeles Rams, one of the better teams in the NFL with a final record of 10-6. While many high school athletes aspire to make it to the top, it's a rare occasion to hear a hometown icon's name called on draft day. Now having completed his second season in the league,  he goes through roughly the same routine every week leading up to game day.
"We start the week with a day off on Mondays, where we usually go to physical therapy and get mentally and physically ready for another week of football," Edwards said. "Then Tuesday through Friday we have a mix of practices on the field, in the weightroom, and in the film room studying our next opponent. We usually arrive at the field three hours before the game to prepare for the kick off."
This year, the LA Rams secured a spot in the NFL playoffs, where they beat the Seattle Seahawks in the wild card round. As a second year veteran in the NFL, this was Edwards' first playoff experience, and it was one to remember.
"The energy in the NFL is always high, but especially in the playoffs," Edwards said. "We knew that a loss meant we had to pack it up and go home for the year, and we wanted to win for each other. The goal is always to get to the Super Bowl, and when that goal is within sight it's super exciting." 
Since high school, Edwards has made the transition from quarterback, to tight end, to offensive lineman. Over the course of that time, he overcame adversity to go pro.
"Being an NFL athlete requires a lot out of you, both physically and mentally," Edwards said. "From a physical standpoint, I had to put on a ton of weight to get where I am today, and while it has helped me get to this point it was something I never thought I would do."
While playing on Sundays has provided him with some money and fame, the relationships between Edwards and his teammates have been the most meaningful part of his young career.
"The common belief in college football is that your team is your family, and for those of us who make it to the next level, we won't have these types of bonds in the locker room," Edwards said. "From my experience with the Rams, I would have to say this belief is false. My teammates are my best friends, my brothers. The chemistry in the offensive lineman group here in LA is just as strong as the relationships I made in Wisconsin, and these guys will be in my life well after football, too. Family is forever."