Surge in carjackings: how to protect yourself
Carjackings are on the rise, with more instances occurring than ever seen before. Four separate incidents have occurred in the cities of Sugar Grove, Aurora, Naperville and Elmhurst during the past two weeks. With criminals now using masks as a disguise, police officers and local citizens are less likely to recognize when crime is present around them.
According to a Chicago Tribune article, hijackings in 2020 increased by 135% in Chicago and followed a spike that was also seen in gun violence. Criminals are often young teenagers due to the shorter juvie sentences as compared to lengthier and harsher adult convictions. Anyone and their vehicle can be a victim, so experts believe it is of utmost importance to be aware of your environment and take necessary steps to avoid becoming a target.
Here are some tips to keep safe and protect yourself in your community:
Where Typically Occurring
Carjackings often happen in remote areas where few people are around. Keep an eye out and travel in groups when parking or stopping at these locations:
parking garages

residential driveways

self-serve gas stations

barren intersections with traffic lights
Highway exit ramps have also been a popular target, with criminals posing as homeless or random strangers asking for money as a facade to lure unsuspecting people in.
How to Stay Safe 
Though it is recommended that one should give their car to a criminal if confronted and avoid physical altercations, there are precautions that can be taken to prevent being victimized.
park in well-lit areas

lock your doors while driving

look inside your car before entering

be hyper-aware of your surroundings

equip your car with anti-theft devices

avoid driving alone at night (when possible)

have your keys ready and in hand when approaching your car
If you do see a suspicious-looking stranger alongside the road, it is recommended to contact the police first instead of pulling over to talk to them.
Learning a Common Scenario
As reported by Ray McGury, the President and Founder of RJM Strategy Group of Naperville, a generally known strategy for criminals is to bump your car lightly from the back to make a minor fender bender appear like an accident. Then, you will pull over and be susceptible to a carjacking incident.
Other scenarios include a carjacker flashing their lights behind you in order to signal a problem with your vehicle, or following you to your home in order to attack you when you pull in the driveway.
Keeping an Eye Out
Despite the fact that carjackings and overall criminal activity are lower in the suburbs than in Chicago itself, keeping a close watch on your vehicle and implementing extra safety measures will likely aid in staying safe at any point in time.
For more information and tips, check out these resources:
About the Writer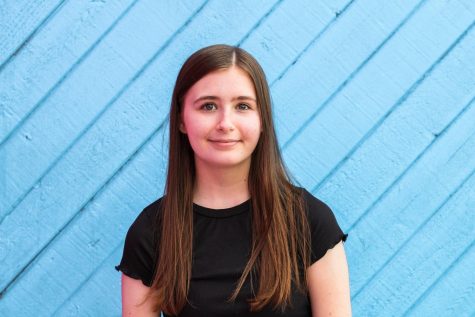 Emily Falconer, News Editor
Junior Emily Falconer is enthusiastic about starting off her first year on staff as a News Editor. When not writing, Emily dances with the Athenas, runs...